About ApeCoin
ApeCoin is a cryptocurrency token that originated from the popular Bored Ape Yacht Club (BAYC) NFT collection. Symbolized as an APE, it serves as a governance and utility token within the APE ecosystem. The Bored Ape Yacht Club (BAYC) is a distinctive collection of 10,000 digital apes, each possessing its own unique appearance, style, and level of rarity. The collection displays algorithmically generated cartoon profile pictures.
ApeCoin is an ERC-20 token that serves as a means of network governance and as a utility token for web3 projects. It was launched in March 2022 and is affiliated with the Bored Ape Yacht Club (BAYC) NFT project. ApeCoin holders take governance decisions collectively, casting their votes and deciding on issues such as allocation of funds and framing of rules. The ApeCoin Foundation facilitates the growth of the ecosystem and has a special body called the board, which executes the community's vision. ApeCoin was designed to function as a universal currency within the Ape crypto ecosystem encompassing various products, games, and services.
The inception of ApeCoin has been marked as one of the most valuable airdrops in the history of crypto. The token was initially distributed to the Ethereum wallets of those who owned an NFT from the Bored Ape Yacht Club (BAYC) or its sibling collection, the Mutant Ape Yacht Club (MAYC). This allowed each BAYC NFT holder to claim an impressive sum of APE tokens worth over $ 100, 000 at the launch.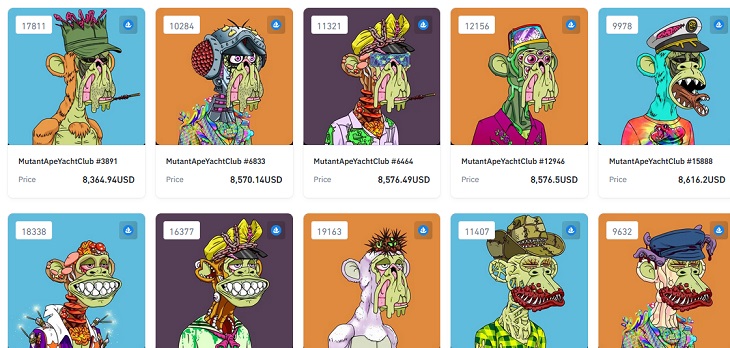 The Mutant Ape Yacht Club (MAYC). Source and Copyright: Binance
Yuga Labs, the creator of the Bored Ape Yacht Club (BAYC) NFT collections, has adopted APE as the primary token for all its new products and services. In addition to BAYC, Yuga Labs also own the intellectual property of two other popular NFT projects, CryptoPunks and Meebits.
CryptoPunks is widely regarded as one of the most valuable and pricey NFT collections, with some sales hitting the million-dollar mark. Nevertheless, the NFT market is currently experiencing a severe crisis, and the prices of these collections have taken a hit. The minimum selling prices for both CryptoPunks and Bored Ape Yacht Club have decreased considerably from their peak popularity. Nevertheless, these collections still retain considerable worth, and their communities continue to remain strong. It's essential to recognize that investing in cryptocurrencies and NFTs is a high-risk asset class. Therefore, before making any investment, conduct comprehensive research on the cryptocurrency or NFT you intend to buy.
ApeCoin Price
ApeCoin was launched in March 2022, and has experienced volatility since its inception. The all-time high was $26.19, which was reached in April 2022, just one month after its launch. However, it crashed back to $13 in May 2022, and its price has fluctuated between $1.78 and $2.09.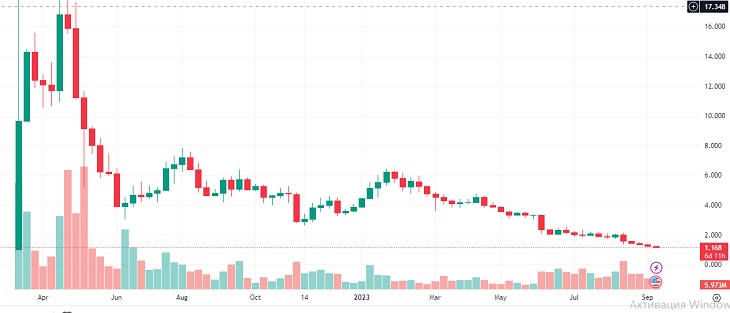 Ape All Time High and Low. Source and Copyright: TradingView
The current price of ApeCoin (APE) is 1.15$. The market cap of ApeCoin is $855,057,632 USD. It has a circulating supply of 368,593,750 APE coins, and a maximum supply of 1,000,000,000 APE coins. ApeCoin (APE) can be traded on several cryptocurrency exchanges. Here are some of them:
How Does ApecCoin Work?
The ApeCoin ecosystem is a space where APE-token holders participate collectively in governance decisions. They have the power to vote on a variety of issues, including fund allocation, rule-making, project selection, and partnerships. Once DAO members voted on the proposals, decisions were made by the ApeCoin Foundation.
The APE Foundation serves as the legal custodian of the ApecCoin DAO, overseeing the expansion and advancement of the APE ecosystem. The ApeCoin Foundation board is composed of five members from technology and cryptocurrency communities. ApeCoin holders vote annually to elect new board members.
The APE, an ERC-20 token, is a fungible token in the Ethereum blockchain. It offers flexibility, as it can be used as both a governance token and a currency in projects that integrate it. The developers of ApeCoin outlined four primary purposes of APE. APE holders can participate in ApeDAO, thereby influencing the direction of community and future ventures. APE can also function as a decentralized currency powered by the Ethereum blockchain.
Possessing an APE can provide users with opportunities such as additional airdrops or exclusive real-world events within the community. The developers of new blockchain projects, such as games or metaverses, have the opportunity to integrate APE into their projects and join the Bored Ape ecosystem.
What is ApeCoin Used for?
ApeCoin plays a multifaceted role in the ecosystem. It empowers token holders to participate in the decision-making process of the decentralized autonomous organization (DAO) and grants them exclusive access to various ecosystem features including interactive games, special events, unique merchandise, and services.
ApeCoin can also be used as payment method. Given its status as a widely recognized ERC-20 token, ApeCoin is technically accepted by the majority of merchants. The token is already being used as a reward for NFT holders, with Bored Ape Yacht Club (BAYC) members receiving complimentary APE that they can instantly convert into cash.
Developers outside the core team also leverage ApeCoin to engage with the ecosystem, integrating the token into their services, games, and diverse projects. For example, in the play-to-earn (P2E) mobile game Benji Bananas developed by Animoca Brands, ApeCoin is used as a player incentive. Players can earn special tokens during gameplay, which can be exchanged with ApeCoin.
ApeCoin is planned to be incorporated into the forthcoming metaverse, Otherside.Otherside is the BAYC-linked metaverse developed by Yuga Labs. When the company announced the minting of 55,000 units of digital real estate NFTs named "Otherdeeds," they were priced in APE. The sale was conducted entirely in ApeCoin, netted Yuga Labs (almost 300 million). This integration positions ApeCoin as a transactional token within a metaverse marketplace.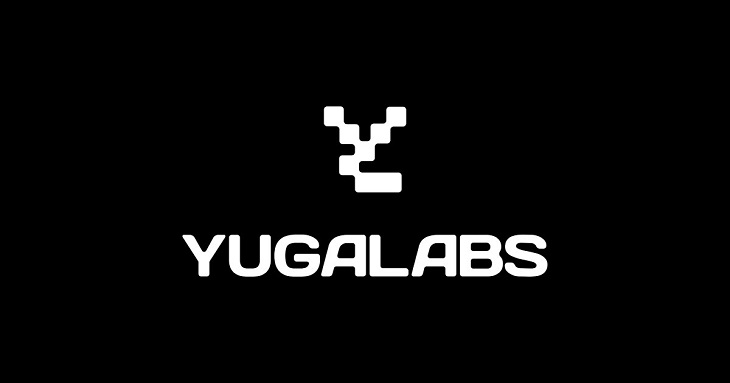 Source and Copyright: YugaLabs
Management
Yuga Labs, the driving force behind ApeCoin, is a distinguished company specializing in blockchain technology. They excel in the development of NFTs and digital collectibles, with a focus on blockchain, cryptocurrency, and digital media. The company, headquartered in Miami, Florida, was founded by Wylie Aronow and Greg Solano.
The company made its debut in April 2021 with the Bored Ape Yacht Club (BAYC) and has since expanded its portfolio to include more NFT and Metaverse-based solutions. The company's name, Yuga, is derived from a game character known for transforming its enemies into 2D art. The selection of apes for the Bored Ape Yacht Club was influenced by the cryptocurrency community's tradition in identifying apes.
The founders of Yuga Labs, avid gamers with a history of playing games, such as the World of Warcraft, Everquest, and Star Wars Galaxies, were drawn to NFTs because they saw them as the dawn of a new era in gaming experiences. Within a year of its inception in 2021, Yuga Labs became the most valuable NFT project through market capitalization in early 2022.
In 2021, Yuga Labs launched two additional collections: the Bored Ape Kennel Club (BAKC) and the Mutant Ape Yacht Club (MAYC). Both collections quickly gained value in secondary markets. In March 2022, the company expanded its portfolio by acquiring CryptoPunks and Meebits, and entered the metaverse with the Otherside project.
Summary
APE was a highly publicized cryptocurrency project that garnered immense attention and hype. The project enticed influential celebrities, and numerous individuals invested in the token. However, the bear market ultimately wreaked havoc on the project, and the price of the token plummeted significantly. The collections linked with the project also lost their popularity, and the fervor dissipated. Currently, it is unlikely that anyone would invest a significant amount of money in APEcoin or purchase NFTs featuring monkeys. However, the project's strong community may still hold some hope for a future bull market. As with any investment, it's essential to conduct thorough research before investing in cryptocurrencies such as APEcoin.
Frequently Asked Questions:
Is ApeCoin a good investment?
The answer depends on an individual's risk appetite and investment goals. Some experts believe that ApeCoin has the potential to become a decentralized payment system and can experience substantial growth in the future. However, others caution that cryptocurrency prices are highly volatile and can be affected by various factors such as market sentiment, supply and demand, and overall market performance. It is recommended that thorough research be conducted before making investment decisions.
What is ApeCoin used for?
ApeCoin is an ERC-20 token used within the Ape ecosystem. It serves as a means of network governance and a utility token for Web3 projects. ApeCoin holders can participate in ApeCoin DAO and use ApeCoin to access games, merchandise, events, and services. What was the total supply of ApeCoin and how was it distributed?
ApeCoin (APE) has a maximum supply of 10 billion tokens, with 30.25% introduced into the circulation at launch. The remaining tokens will be added in the coming years. The supply of APE is expected to be fully vested by March 2026.
The initial distribution of the APE tokens is as follows:
A total of 14.00% was allocated to Launch Contributors.
15.00% was allocated to the Bored Ape Yacht Club/Mutant Ape Yacht Club NFT Holders.
47.00% are allocated to Treasury/Resources
15.00% were allocated to Yuga Labs.
1.00% was allocated to charity (JGLF).
A total of 8.00% were allocated to Bored Ape Yacht Club Founders.
What's an NFT?
A unique digital identifier that certifies ownership and authenticity is called a nonfungible token (NFT). NFTs are created using the same programming as that used for cryptocurrencies and are recorded on a blockchain. Unlike other cryptographic assets, NFTs cannot be exchanged or traded in an equivalent manner. They can represent digital or real-world items and are typically held on the Ethereum blockchain. NFTs are often linked to specific things such as pictures, artwork, songs, or recordings of sporting events. They may also grant permission to use the asset in a certain manner. NFTs can be bought, sold, and swapped in the digital markets.