ECOMI is a Singapore-based company that offers products such as OMI tokens, ECOMI wallets, and the VeVe platform. The company's primary goal is to modernize popular Internet culture and society by incorporating NFTs and prioritizing their development. NFTs might have a significant future in ECOMI's eyes, not only as digital artworks but also as interactive experiences.
What is the VeVe platform?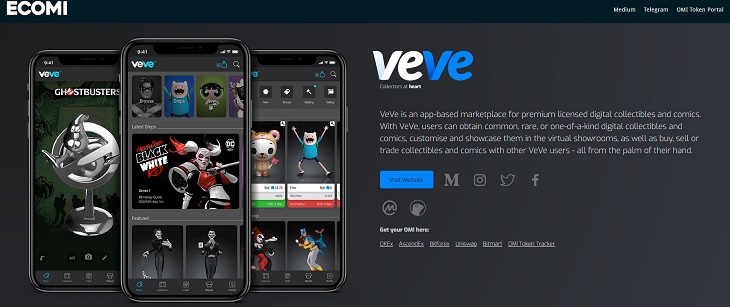 Source and Coyright © ECOMI
Even though the app does not yet have all of its features, it is important to understand its functionality and offerings. Below are the 5 main components of the VeVe app, each with its own features and functionality:
VeVe's store offers easy and convenient access to collect your favorite characters or virtual goods. In addition, users can create a watchlist and perform various actions, including completing collectible sets;
Social Feed. A collection becomes meaningful when other users view it. With an integrated social feed, users can share items from their collections with others and discover the digital collectibles they desire;
Augmented reality showrooms. The collection point displays all of your collectibles. Showrooms have also gone digital. With pre-existing themes, rooms, and various other options available, the interaction with digital collectibles has evolved into an augmented reality experience;
Secondhand Marketplace. Exchanging collectibles through buying and selling with users around the world is easier and takes seconds. The easiest way to visualize this interaction is through the e-auction of digital collectibles. Here, you can create a list to browse, bid, and, once the auction is won, add the purchased items to your collection;
Wallet that allow you to store and redeem digital collectibles by tracking transaction history.
ECOMI's VeVe platform is unique because it offers a variety of licensed digital collectibles from popular brands, including DC Comics, Ghostbusters, and Back to the Future. The platform also offers augmented reality (AR) experiences, enabling users to interact with their digital collectibles in the real world.
ECOMI token ($OMI)
ECOMI (OMI) is a token that serves as the native asset of the ECOMI ecosystem, which focuses on the creation and trading of non-fungible tokens (NFTs) and digital collectibles.The token is built on the Ethereum blockchain and utilizes the ERC-20 standard. The total supply of OMI tokens is 750 billion, with a circulating supply of approximately 264 billion tokens at the time of writing.
OMI tokens have a variety of utilities within the ECOMI ecosystem. These utilities include the ability to purchase and trade NFTs, access exclusive content, and participate in community events. The token also plays a crucial role in the governance of the ecosystem, enabling holders to vote on proposals and decisions pertaining to the platform.
OMI is considered a token rather than a cryptocurrency because it is not intended to be used as a medium of exchange or a store of value like traditional cryptocurrencies such as Bitcoin or Ethereum. Instead, its primary purpose is to facilitate transactions and interactions within the ECOMI ecosystem. The token has exhibited significant volatility in its price, experiencing substantial fluctuations in value within short timeframes.
Here are some pros and cons of adding the ECOMI token (OMI) to your crypto portfolio: Pros:
ECOMI is a blockchain-based platform that offers a range of services and functionalities under the 'ECOMI collection category. This implies that the token has a real-world use case, which can potentially increase its value in the long run.
OMI tokens can be traded on various cryptocurrency exchanges including Uniswap V3, OKX, and BitMart. This means that the token has good liquidity, making it easier to buy and sell.
Adding OMI to your portfolio can potentially diversify its holdings and reduce overall risk. A diversified portfolio is generally recommended to minimize the impact of market volatility.
Cons:
The current market capitalization of the OMI token is relatively low, which means that it may be more volatile than the larger cryptocurrencies.
The price of the OMI token is relatively low, which means that it may not be as attractive to investors seeking high returns.
The circulating supply of OMI is relatively high, which means that the token may be subject to inflationary pressure.
However, it is important to consider potential risks, such as volatility and inflationary pressures, before making investment decisions.
OMI Market Cap
At the time of writing (9/8/2023), the current market capitalization for ECOMI (OMI) is $247 124 246 USD. The market cap is calculated by multiplying the total value of all circulating OMI tokens by their current prices. The trading volume of ECOMI (OMI) was $736,698.57 in the last 24 hours, which indicates a -5.50% decrease from one day ago. This decline suggests a recent decrease in market activity.
Where OMI token can be traded?
You can trade $OMI on several major crypto-exchanges, including Bitforex, Uniswap V3, KuCoin, and BitMax.
OMI Maximum and Lowest Price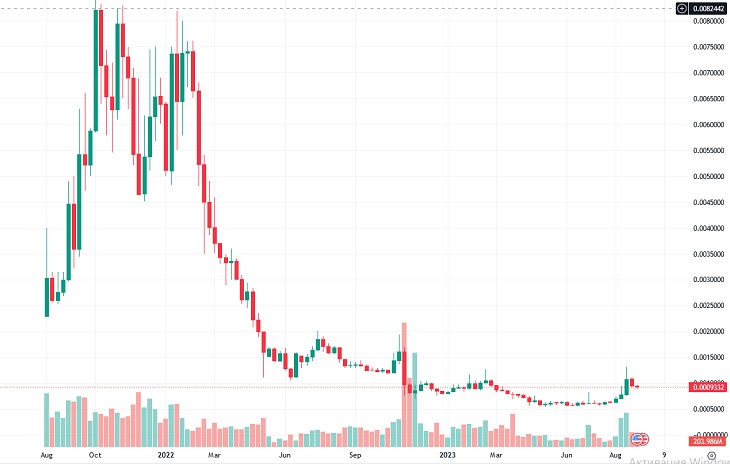 ECOMI All Time High Source and Coyright © Tradingview
According to reports, the significant increase in the price of OMI in September 2021 was attributed to a gain of 15,034.09% in that month alone. This sudden increase in price likely attracted more investors and traders to the token, thereby further increasing its value. Additionally, the surge in popularity of non-fungible tokens (NFTs) and digital collectibles may have also contributed to the surge in demand for OMI.
This is because OMI is the native asset of the ECOMI ecosystem, which specializes in the creation and trading of NFTs. It is important to note that the price of OMI is volatile, experiencing significant increases and downturns from July to October 2021. Despite this, the support line steadily advanced, indicating a general upward trend in the value of the token. The lowest price of OMI token was $0.00000337 on Nov 04, 2019 when project was just launched.
Summary
The OMI token is a utility token used for purchasing digital collectibles from the VeVe platform. The platform offers a unique and interactive experience for collectors, and the OMI token is the exclusive currency used to purchase digital collectibles. The OMI token has the potential to be a promising investment for individuals interested in the NFT market. However, it is crucial to conduct thorough research and comprehend the associated risks.
Frequently Asked Questions:
How much worth will the OMI token be?
The price of the OMI token is subject to change based on the market demand and supply. No one can say for sure how much will it be worth, but we can always analyze products that are behind the asset to determine its future value.
Is OMI a good crypto?
The OMI is a utility token used to purchase digital collectibles on the VeVe platform. It has the potential to be a good investment, but it is important to conduct your own research (DYOR) and understand the risks. The cryptocurrency market is depressed and volatile, so investing in ECOMI may not be profitable in the short term. However, the VeVe platform offers a unique and interactive experience for collectors, and the OMI token is the only currency used to purchase digital collectibles.
What will OMI be worth in 2025?
There is no method to predict the exact price of the OMI token by 2025. However, if you invested $1,000 worth of OMI in September 2020, the reason would be simple: a 15,034.09% gain in September 2021 alone. However, some crypto-assets never return to their price ATH's (all time high).
What is the use of OMI in crypto?
The OMI token is a utility token that serves as a medium of exchange on the VeVe platform. It is designed to be traded within the VeVe ecosystem and used to purchase and sell digital collectibles. The OMI token is also used to mint new digital collectibles or buy existing ones