Cardstarter (CARDS): The First Launchpad on Cardano
08/07/2023
---
In this article, we want to give you all you need to know about Cardstarter. We will explore essential aspects like what it is and how it works. We will also provide details about the CARDS token, its tokenomics, distribution, key metrics, where to buy it, and how to store it.
Individuals and organizations launch new projects on Launchpad to attract investors and raise funds. The Launchpad allows crypto investors to profit massively by making small investments early. However, Launchpad is not free from scam projects. 
The best mutual trust solution in the cryptocurrency ecosystem is Initial Dex Offering (IDO). Hence, the reason for Cardstarter's existence. Cardstarter wants to help projects built on the Cardano network to cross the lack of funds barrier and breed trust among the users.

What is Cardstarter?
Cardstarter, also known as CARDS, is Cardano's network first Launchpad, insurance program, and incubator for projects. The unique and dynamic launchpad links projects with interested early Cardano investors and many significant partners. The trusted and vetted team responsible for the CARDS Decentralized Accelerator Program relates with projects individually to map marketing strategies and build the proper connection that will ensure they have a strong foundation for success in the long run. 
Cardstarter is an all-inclusive Launchpad. Aside from providing auto lock liquidity and being a decentralized fundraising platform, it will contain a swapping platform connecting early-stage Cardano investors to projects' current offerings. In addition, the Launchpad aims to become 'The Cardano Projects' Nurturing Force.' To achieve that, it has made project development support and hackathons the center of the roadmap.
How Does Cardstarter Work?
Cardstarter, Cardano's first insured project accelerator, conducts IDOs for projects via a tiered system. Crypto lovers who hold CARDS can gain early access to guaranteed presales, seed round allocation, and projects' public sales on the platform.
However, investors can only participate in Cardstarter's IDOs through CARDS staking. After staking, they can now proceed to register for IDOs. After every registration period ends, successful applicants must complete their KYCs within one day. In addition, their accounts will be locked for seven days after their registrations. 
The platform runs on the Ethereum blockchain. Hence, staking CARDS and registering to participate in Live IDOs requires paying ETH as gas fees. When registering, participants must use the same wallet address they used for staking their CARDS.
CARDS Tier System
Wild Card
This tier is for investors who hold between 100 to 1000 CARDS tokens. The Wild Card tier uses a random lottery to select the fortunate investors that will get guaranteed varied allocations. Hence, the only chance to a guaranteed slot as a wild card tier holder is via lottery odds.
Face Card
Investors who have between 1500 and 21000 CARDS tokens belong to this tier. The guaranteed varied allocation for members in this tier is usually reserved.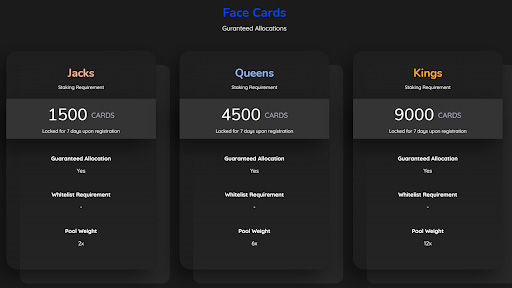 Source and Copyright © CardStarter (here and later in this article)
Pool Weight
This tier is for investors with large numbers of tokens. These investors receive more token rewards because they have staked over 21000 CARDS.
After the fundraising, the platform transfers a certain percentage to the Insurance Fund to keep the community safe from investing in projects that will eventually fail.
After the whitelist sale, the remaining token is sold on a First Come, First Serve basis. In addition, every participant that registered and completed their KYC at the designated time will qualify to purchase the remaining tokens with a Pool Weight of 2x.
Furthermore, early-stage Cardano innovators or projects choosing to launch directly in the CARD Accelerator Program (CAP) will gain early support from Cardstarter partner firms in areas like branding, social media strategy, security audits, community development and awareness, token engineering, Web3 graphics, blockchain development, etc.
What is CARDS Token?
CARDS is Cardstarter's native token, and it is ERC-20 (Ethereum-based). It means that the token runs on the Ethereum blockchain for now. CARDS token is the ticket/voucher used to register for participating in the live IDOs of new projects launching on Cardstarter. 
Even though you must stake CARDS to register, the payments must be made with ETH as it is the only crypto acceptable by projects launching on Cardstarter. However, Cardstarter is supposed to migrate from Ethereum to the Cardano network according to the details on its roadmap.
CARDS Key Metrics
| | |
| --- | --- |
| Name of Token  | Cardstarter Token |
| Blockchain | Ethereum |
| Token Standard | ERC-20 |
| Type of Token  | Utility |
| Contract | 0x3d6f0dea3ac3c607b3998e6ce14b6350721752d9 |
| Ticker | CARDS |
| Maximum Supply  | 10,000,000 CARDS |
| Circulating Supply | Still Updating |
CARDS Token Allocation
The total maximum supply of CARDS tokens is 10,000,000, and the table below shows how the tokens will be allocated from the smallest to the most significant percentage.
| | |
| --- | --- |
| Advisors | 2% |
| Ecosystem | 7% |
| Partnerships | 8% |
| Liquidity | 13% |
| Team | 20% |
| Private Sale | 20% |
| Public Sale | 30% |
CARDS Token Sale
| | | | | |
| --- | --- | --- | --- | --- |
| Initial Model for Distribution | Number of CARDS Tokens | Price of One CARDS Token | Total Funds Raised | Schedule for Release |
| Allocation for Private Sale | 2 million CARDS  | $0.10 | $200,000 | 10% at TGE, 22.5% monthly for four months. |
| Allocation for Public Sale | 3 million CARDS | $0.15 | $450,000 | 10% at TGE, 22.5% monthly for four months. |
CARDS Token Use Case
CARDS holders can stake their cards to participate in projects' live IDOs. In addition, you must stake your cards to participate in Cardstarter's tiered system. After staking your card, you will get a card showing your tier based on the number of CARDS tokens you staked.
How to Get CARDS Token
As mentioned, CARDS is an ERC-20-based token. Hence, you can get it from any Ethereum-based decentralized exchange or swapping platform, for instance, 1inch and Uniswap. Aside from buying CARDS tokens from Decentralized Exchanges, you can earn CARDS tokens when you provide liquidity on Cardstarter. 
How to Store CARDS Token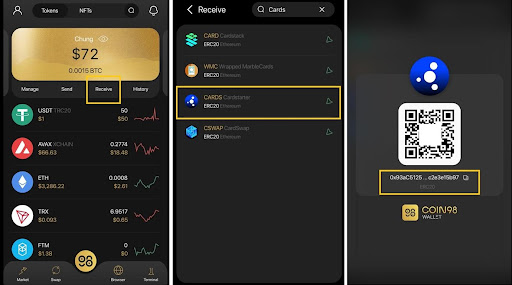 If you have a Coin98 Wallet, you can send, receive, and store CARDS tokens by following these three simple steps below.
Log into your wallet and click on Receive.
Search for CARDS token.
Select the correct result and copy the wallet address.
Send CARDS to the address you have copied. 
Cardstarter Roadmap
The table below clearly outlines the platforms' roadmap as developed in 2021.
| | | |
| --- | --- | --- |
| Second Quarter (Q2) | Third Quarter (Q3) | Fourth Quarter (Q4) |
| Cardstarter Token (CARDS) Generation Event | Partnership | Cardstarter Migration to The Cardano Blockchain |
| Distribution of CARDS Token | Development  | |
| | Marketing | |
| | Project IDOs | |
Project Team
The CEO (Chief Executive Officer) of Cardstarter is Aatash. In 2013, he built his first POW (Proof of Work) coin. In addition, he has helped others grow their projects in the industry up to the tune of $350M.
The company's COO (Chief Operations Officer) is Brandon Kazakoff. He is a highly experienced manager in the Web3 ecosystem.

Upcoming Projects
Neofi
NeoFi is a DEX aggregator that allows users to buy and loan crypto assets from the cheapest pools in the DeFi (Decentralized Finance) ecosystem without paying gas fees. In addition, it will help users to develop a safe, well-researched, and diversified crypto portfolio via a single click; by clicking the "Baskets" or prebuilt portfolio button. It also processes fiat to crypto payments.
Carb0n.fi
Carb0n.fi is a blockchain solution driven by sustainability. The aim of Carb0n.fi is to create a world free from carbon. However, it will start with the crypto world.
Avarta
The goal of Avarta is to redefine trust in the Web3 and DeFi industry by providing a unique three-layered authentication. Every layer will solve significant issues around over-collateralization and security.
Frequently Asked Questions
Is Cardstarter Safe?
Cardstarter protects investors who acquire access to projects in its community from losing out due to dump after presale. The insured cross-chain accelerator provides financial protection by transferring a portion of every presale money into an insurance treasury to prevent a potential project failure. Despite this, you are always at risk of losing money in the cryptocurrency market, so be sure to do your own research.
Is Cardstarter (CARDS) a Good Investment?
Most projects launched directly on Cardstarter have done well, and their token prices have grown after launch. Their successes have given their early investors profits with just little initial investments. However, other projects have done poorly. Hence, do your own research before investing in Cardstarter.
What Makes Cardstarter Unique?
The uniqueness of Cardano's Launchpad is based on its ability to protect its community backers. Cardstarter carries out security audits on the codes of every project through third parties to avoid any potential project failure and keeps the IDO investments of its participants safe through its in-house insurance program. In addition, it is concerned with providing donors and raising preliminary support for its early-stage Cardano projects.
---
---