AMP token ($AMP) is a cryptocurrency that aims to improve transaction efficiency by securing transactions and making them faster and safer to execute. The token were supported by Chainlink, MoonSwap, Yield, DODO, and other platforms.
AMP cryptocurrency is based on the concept of fractionalization. Each process or software has its own section within the system. This allows users to have access to a wide range of applications.
AMP is versatile and adaptable. The system is an open-source license that allows you to create and use customized management systems to communicate with AMP in any way you prefer.
What is Amp (AMP)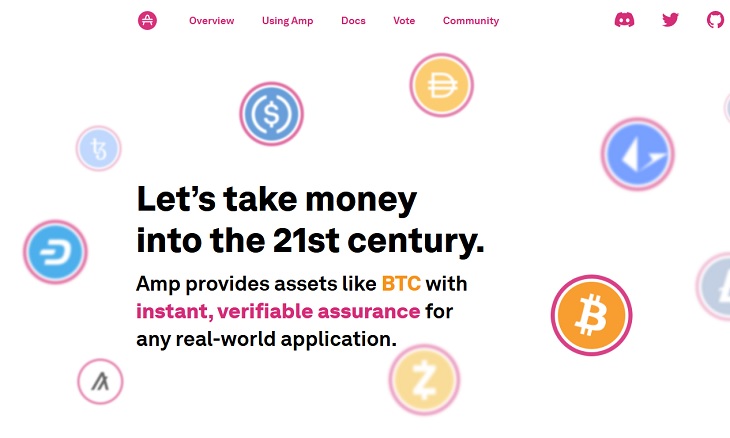 Source and Copyright © Amp
This is a decentralized token based on the Ethereum blockchain architecture (ERC-20). The asset is characterized by near-instantaneous transactions, with network participants being able to verify all information seamlessly.
The AMP token was launched in September 2020 at a price of USD 0.009. Initially, the token experienced a bearish trend and dropped to an all-time low of $0.0007 in November 2020. However, it managed to turn this trend as it entered the new year and climbed above its launch price in February 2021.
The AMP team is working to build a flexible and futuristic basis that has already drawn cryptocurrency investor attention. The AMP token provides a way to improve the transaction efficiency. Currently, AMP tokens are supported by Chainlink, MoonSwap, Yield, DODO, and other platforms.
By using valuable items such as security, people and corporations obtain safe and effective collateral that is validated in a clear blockchain. Moreover, Amp is not limited to any specific type of asset, which means it can work with any form of value transfer, whether digital or physical, to facilitate instantaneous and permanent transactions of various types.
Collateral partitions are the fundamental elements of the AMP collateral model. Collateral partitions are sets of tokens that act as collaterals for certain goals and have their own unique partition addresses on the Ethereum blockchain. Each separation screen can have its own regulations for transfers and permissions and can execute a predetermined screen-splitting plan to provide unique functionalities (e.g., screen models in which tokens are deposited without leaving their initial address).
It is an extensible platform that ensures the sustainable transfer of funds. This allows the users to exchange different values. For example, digital transactions, fiat exchanges, loan distribution, real estate sales, and more.
This project offers a nonstandard concept for optimizing transaction operations. The token has certain prospects because of its deflationary nature and active expansion of the target audience. The developers also expect that with the popularization of the asset and growth of its market capitalization, its volatility will proportionally decrease.
AMP Price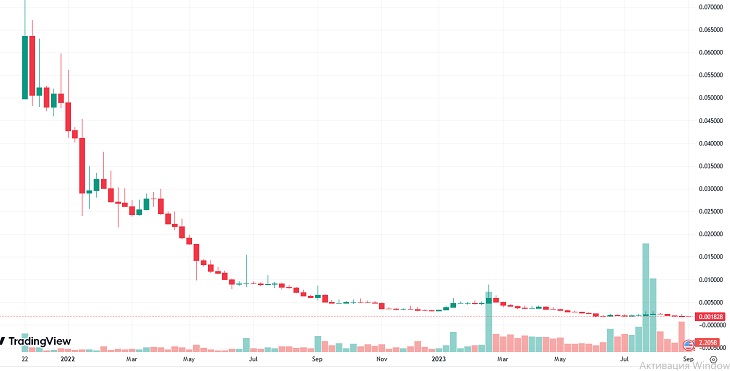 AMP All Time High. Source and Copyright © TradingView
The token peaked at $0.12 on June 16, 2021, after listing the Coinbase exchange. Despite experiencing a few price surges over the rest of 2021, it saw an overall downward trend and dropped to a 52-week low of $0.0054 on September 7, 2022. As of September 8 2023, the price of AMP token is $0.003802718102 with a 24-hour trading volume of $4,916,380. According to CoinGecko, this represents a 2.60% price increase in the last 24 hours and a -8.60% price decline in the past seven days.
Where AMP token can be traded?
AMP token ($AMP) are available for trading several cryptocurrency exchanges. The following is a list of some of the exchanges where you can buy and sell AMP tokens:
Centralized exchanges offer more liquidity and trading pairs but require KYC verification. Decentralized exchanges offer more privacy but may have less liquidity and fewer trading pairs.
AMP Staking
AMP stacking is available through various platforms, including the Flexa Capacity App, Uniswap, and Balancer, as well as popular wallets, such as MetaMask and Trust Wallet. To stake AMP through the Flexa Capacity App, simply connect your wallet (choose from MetaMask, Coinbase Wallet, Rainbow, Trust Wallet, Argent, or Wallet Connect) and follow these steps:
Link your hardware wallet with MetaMask before connecting it to Flexa Capacity
Choosing from the given staking options
Your entire balance of AMP will show up. Pick on the preferred protocol for AMP staking, select the amount you want to stake, and click "Continue"
After the transaction is completed, you will view your AMP balance and the rewards.
The steps to cease AMP stacking are as follows:
Connect your wallet to the AMP balance;
Click the Move button next to the asset you sent to staking, then select the number of Amp tokens you want to withdraw from the pledge;
Click Continue and wait for your pledge to be unlocked. Note that while you can withdraw your AMP pledge at any time, the processing time may be longer (from a few minutes to a few hours) if the AMP is currently being used to provide a cryptocurrency transfer or if the Ethereum network is congested.
Click "Move to Wallet" to return tokens to your wallet. Then, click "Continue'.
Wait until the transaction is confirmed to verify the AMP balance.
Is AMP token a good investment?
The Flexa team created and maintains the Amp token, and they are highly respected in the market. They have served millions of customers worldwide since 2018, providing them with extensive experience. Reputed organizations, such as Trail of Bits and ConsenSys Diligence, have conducted thorough testing and verification of all smart contracts associated with the token. Additionally, many leaders in the blockchain and DeFi industries have adopted the Amp token. Projects such as Uniswap, SushiSwap, Balancer, Chainlink, and Loopring are partnering with the Amp protocol to enhance their features. As the Flexa Network expands and AMP integrates into various protocols, this will enhance liquidity and decentralization, thereby improving the quality of AMP. This indicates that the project has potential. However, in the volatile cryptocurrency market, anything can happen. Whether AMP token is a good investment or not depends on individual circumstances and risk tolerance. Here are some points to consider:
Pros:
AMP token is designed to improve transaction efficiency and security, which can be beneficial for users.
The token is supported by several platforms, including Chainlink, MoonSwap, Yield, and DODO, which indicates its potential for growth.
The market capitalization of AMP token has been increasing over time, which shows that it is gaining popularity among investors.
The token has a clear use case as collateral for instant and secure transactions, which can make it more valuable in the long run.
Cons:
The price of AMP token has been volatile, which can be risky for investors.
The token has experienced significant price drops in the past, which can be a cause for concern.
The cryptocurrency market is highly unpredictable, and the value of AMP token can change rapidly.
Remember that It is important to do you own research and analysis before making any investment decisions.
Frequently Asked Questions:
What is the market capitalization of AMP?
As of September 8, 2023, the market capitalization of the AMP token is $213,628,512. The market capitalization of the AMP token has been increasing over time, indicating its growing popularity among investors.
What will be the value of AMP in 2025?
It is difficult to determine the exact value of the AMP token ($AMP) in 2025. However, predictions have been made by various sources. Some experts predict that the coin could experience a 40% increase in value in 2023, with its price ranging from $0.00778 to $0.0112. The coin could reach a high of $0.016 per share by the end of 2025. The price of the AMP token has been fluctuating since its release in September 2020, experiencing significant drops in the past. That's why purchasing AMP tokens carries some risk. But remember, cryptocurrency prices can be highly unpredictable and can change rapidly. Therefore, it is crucial to conduct thorough research and analysis before making any investment decisions.
Is the AMP token legit?
AMP token appears to be a legitimate cryptocurrency. The token was launched in September 2020 and is designed to enhance transaction efficiency and security. It is supported by several major cryptocurrency platforms, which indicates its potential for growth. The token has a clear use case as collateral for instant and secure transactions, which can make it more valuable in the long run.