What Is eTukTuk and Is It a Scam? Reviews, Opinions and DYOR
11/10/2023

---
What do blockchain and busy traffic streets have in common? At first glance, they might seem worlds apart. But what if the blockchain's ability to connect things could be used to make transportation itself? eTukTuk is a project that is set to bring these two different worlds together.
eTukTuk is a project that aims to redefine mobility in developing nations with a particular focus on carbon emissions. 
The project's core mission is to build the charging infrastructure of tomorrow, targeting the loaded streets of developing countries using blockchain technology. The project's pilot operations are planned to commence in Colombo, Sri Lanka, a city with over 1.2 million registered tuk-tuks, notorious for their carbon emissions.
One detail that needs to be clarified:  tuk-tuk is a popular two- and three-wheeler vehicle often found in developing economies, they are also known as auto-rickshaws. In these areas, the presence of inadequate road infrastructure frequently leads to extensive traffic congestion, prompting numerous individuals to depend on these transportation means to ensure they reach their destinations on time.
So that's where eTukTuk comes into play with its own version of electronic zero-emission Tuk Tuks dubbed eTukTuks. eTukTuks come with a design that includes less than 200 components, making them simple to manufacture locally. The vehicles are equipped with long-life batteries, anticipated to last up to eight years, with service networks in place to repurpose these batteries.
Another component of eTukTuk's ecosystem is the Electric Vehicle Supply Equipment (EVSE) network, which is planned to be strategically placed across urban and rural landscapes to enhance charging accessibility and efficiency. The network's goal is to become independent of local power grids, with solar-powered stations. Payments at these stations can be made using TUK tokens among other selected currencies, via a driver app.
By utilizing blockchain technology, the ecosystem enables transporters, passengers, and other network participants to consistently earn rewards.
eTukTuk Reviews and Opinions: Reddit and X
Reddit reviews on eTukTuk reflect a spectrum of reactions. Here's a concise synthesis of their sentiments:
Why is there a transportation project in the blockchain lmao," asks one user, expressing confusion over the crypto component of eTukTuk. The project's utilization of a token system leaves some scratching their heads, wondering, "Is it meant to be a share in the company?" 
Stronger words of caution come from a user who states, "I pity for the future victims. That's another bomb waiting to explode." Another concurs, "I would be EXTREMELY careful... it smells all types of fishy"
Some users are more positive with one comment reading, "I think it can solve the problem of air pollution in South Asia," recognizing eTukTuk's potential environmental benefits.
One user commented "I think it can solve the problem of air pollution in South Asia," recognizing eTukTuk's potential environmental benefits.
Not many comments regarding the project on X have been found.
One user shared his opinion stating "I view any new project as extreme high risk whilst in a macro bear market which I believe us to be in".

Founders and Investors of eTukTuk
The eTukTuk team is transparent and made their LinkedIn profiles accessible on their official website. However, extensive details about the team members cannot be found online.
Source & Copyright: © eTukTuk
Mohit Ahuja holds the role of Chief Growth Officer at eTukTuk. His LinkedIn profile states that over the past 9 years, Mohit has led sales, strategy and marketing at some top players in the Indian startup scene.
Sukhjeevan Uppal serves as the Chief Technology Officer at eTukTuk. According to his LinkedIn, his expertise spans serving as a financial consultant for an array of firms and conglomerates, including well-known entities like Toyota Motor and Astra Zeneca.
Craig McNerlin brings his expertise to the team as the Chief Business Officer. His LinkedIn profile indicates a history of engagement with the SMB market and major international brands. Craig's experience encompasses work with industry giants such as Google, Facebook, and Bing.
Earlier in the year, eTukTuk entered into a partnership with The Capital Maharaja Group (CMG), a leading conglomerate in Sri Lanka known for its extensive private sector influence and over 44 international collaborations. CMG acquired a 20% equity stake in eTukTuk's operations within Sri Lanka.
eTukTuk has also secured a partnership with the Sri Lankan government, aiming to establish a network of over 200 charging stations. This government-backed initiative is set to lower operating expenses for drivers, projecting an operating cost reduction of up to 400% compared to fossil fuel-based tuk-tuks.
At this point, the project has now secured any investments. 

Community, Website, and Social Media Accounts
The project's Telegram channel has over 12,000 participants. Moderators are actively and promptly addressing queries from users.
Their presence on the X platform has garnered around 47,000 followers. The follower base does not prominently feature well-known personalities or influencers from the cryptocurrency sector, and the level of activity in the comments section low.
The project's Discord server reports approximately 6,000 members. This platform shows an active community, with moderators maintaining an active presence.
Project's Youtube channel counts 2000 subscribers and 14 videos. Total views are scarce and so is the comment section. 

eTukTuk Tokenomics: Supply, Allocation, Use Case
The TUK is a utility token that is designed to provide incentives to long-term participants in the network. Those who hold $TUK tokens will be rewarded each time drivers pay fees for charging their electric vehicles at the network's charging stations. As the charging station network expands, TUK token holders are promised to gain more rewards.
Source & Copyright: © eTukTuk Whitepaper
Drivers will complete their charging payments via the Driver App, which facilitates transactions using TUK tokens through cryptocurrency exchanges and fiat gateways. Passengers also have the option to make payments using TUK tokens, leading to discounts on their rides.
There will be a total of only 2 billion TUK tokens in circulation. For participants in the private sale, a randomized release function will be implemented to prevent the sudden flooding of tokens into the market on any given day. Partnership tokens will be distributed on a case-by-case basis.
Source & Copyright: © eTukTuk Whitepaper
Upon the network's launch, a controlled and gradually decreasing token release strategy will be employed to incentivize token holders for sustained participation in the network. On-chain rewards will be distributed to TUK token stakers over a span of 15 years, with the release quantities progressively diminishing from the Staking Rewards pool.

eTukTuk Current Price and Price History
TUK recently started its presale, selling the token for a price of $0.024 and has raised over $160,000 to date.  The presale has a 40% discounted community sale for the first stage, providing lower prices to early adopters.
Bottom Line: Is eTukTuk a Scam or Not?
The website offers comprehensive information, including an audit report, a whitepaper, and a well-defined roadmap. Notably, the project was officially launched at the World Economic Forum in Davos and has support from a local government. The team behind the project is transparent.
However, a potential concern arises from the website's claim that purchasing and staking TUK tokens can result in a1138% annual return. Such a ridiculously high figure could be seen as a red flag potentially indicating a rug pull or Ponzi scheme. 
No partnerships with renowned projects in the industry have been announced on project's social media platform. 
The project is currently in its early stages and has yet to secure backing from renowned investors. As a result, it remains premature to draw definitive conclusions about its long-term prospects. 
Considering the available information and the aforementioned factors, we would classify this project as carrying a high level of risk at this stage.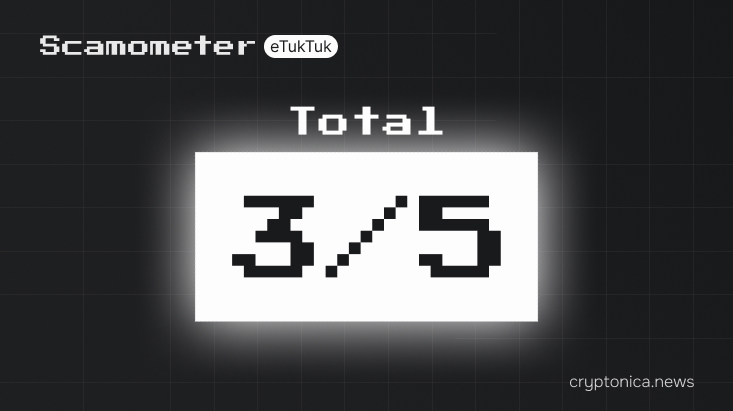 ---
---
About the author