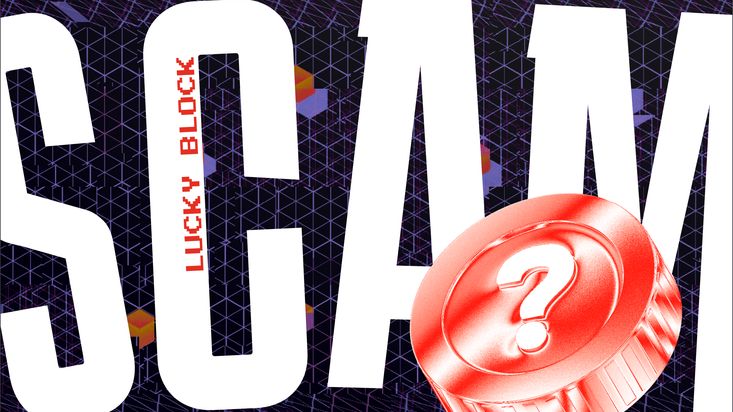 What Is a Lucky Block and Is It a Scam? Reviews, Opinions, and DYOR
11/15/2023

---
Imagine you are participating in the Lucky Block project: passive income, daily competitions, rewards in the form of tokens, NFTs, and competitions with other users... It sounds cool, but there is a caveat: many consider this project to be a scam. Cryptonica decided to figure out what stands behind the attractive conditions of Lucky Block, who founded the project, and whether it is a scam or a truly honest project.
According to the founders, Lucky Block is a blockchain-based lottery platform that offers the opportunity to earn passive income through dividends from NFT assets and participate in daily competitions. The platform is built on the Ethereum blockchain and offers a unique approach to lottery games. Players can earn rewards in the form of LBLOCK tokens by owning NFTs and participating in competitions.
But is everything so pure and transparent? Let's figure it out.
Lucky Block Reviews and Opinions: Reddit and X
Let's start with the most honest thing — the opinions of living people.

To begin with, we decided to ask Cryptonica subscribers in X what they think about the Lucky Block project.
 

Not many people took part in the survey, but from its results, it became clear that crypto enthusiasts do not consider the project a scam.

If we enter Lucky Block into the search bar of a social network, we will find posts about games, but not from Lucky Block, posts from the project itself, as well as random publications that contain the words Lucky and Block, but separately. We did not find any clear opinions from X about this project. Interestingly, sometimes users' questions are not answered in the company's account itself, but we'll talk about the company's other social networks later.

While searching for publications about the project on Reddit, we came across the most striking one. There, in a few paragraphs, he explains why he believes that the Lucky Block project is still a scam.

"It only took me 20 minutes to understand what was going on," the author states.
Source and Copyright © Reddit 
Interestingly, many commentators do not agree with the user who was literally "bombed". Here are their reactions to the post-revelation:

"I bet this guy thought Bitcoin was a scam," wrote one of the dissenters.

Source and Copyright © Reddit 
Some users agreed that the project was suspicious, the site was not user-friendly, and the rules of several games were explained inaccurately or there were no explanations at all. Support, according to one of the commentators, also did not work very well.

Source and Copyright © Reddit 
There are doubtful users, but they believe in the project and continue to keep coins in their accounts.

Source and Copyright © Reddit
Others have sold some of their stock because they think something is wrong with the project.
Source and Copyright © Reddit
And one more opinion about the project:
Source and Copyright © Reddit
As a result, users from X and Reddit were divided into two camps, but we still see the prevailing opinion that Lucky Block is not entirely a scam. Therefore, we give him the following rating:



Community, Website, and Social Media Accounts
| | | | | | | |
| --- | --- | --- | --- | --- | --- | --- |
| Platform | X | Facebook | Instagram | Telegram | YouTube | Discord |
| Subscribers | 33,3k | 6,4k | 11,5k | 2k | 1,5k | 10,4k |
| Comments | 5-6 comments per post on Average | 2 comments per post on Average | 1 comment per post on Average | active chat discussion | comments are disabled on some videos, but on average there are few of them | active chat discussion |
| Reposts | 2-5 on Average | almost zero | ------ | ------ | ------ | ------ |
| Engagement | low | low | low | medium | low | medium |
| Community Power | 1 from 5 | 1 from 5 | 1 from 5 | 3 from 5 | 2 from 5 | 3 from 5 |
The project's social networks are not very active, but the fact that they exist already indicates that there is attention to the project and it is ready to share news, information and its data. Strangely, the project has closed comments on some videos on YouTube, and the largest number of reactions and comments was on an interview with project ambassador Dillian White on the company's private jet. Interesting.

As for the site, we agree with one of the users in the block above - it is not very convenient from the point of view of a user who wants to learn more about the project itself. There is simply no section with About information, or it is hidden very far away; there is also no description of the team, details of the development plan, or description of the project's native token. Games, sports betting, and casinos are what you see when you visit the site. Play right away? How can we get to know you better, Lucky Block?
Source and Copyright © Lucky Block 
In general, information about the project can be found on other resources, for example, in the reviews written by crypto or gaming editorials. Whether they are paid or not, judge for yourself. Here is one of the publications about the project.

As a result, the project shares information, and maintains social networks and channels for discussions, but the information and involvement of users in the Reddit (and not the company's) was more interesting. We set the project:



Founders and Investors of Lucky Block
Lucky Block was launched in January 2022 by Scott Ryder. Ryder is a former head of sales at fintech marketing company Investoo Group, co-founder of DeFi Coins, and CEO of StakeMoon Coin. Interestingly, he does not list the company name on his LinkedIn. There he is a Co-Founder at Block Media. James Fennell is the COO of Lucky Block, as well as the CEO of NFT Launchpad and the former head of global marketing at digital media company Finixio.

Lucky Block claims to be the first cryptocurrency project to reach a market capitalization of $1 billion in its first three weeks. Lucky Block is also licensed by the Governor of Curacao. As such, it follows all relevant laws regarding anti-money laundering.

Lucky Block Tokenomics: Supply, Allocation, Use Case
The LBLOCK Lucky Block coin was initially listed on two exchanges: the centralized exchange LBank and the decentralized exchange PancakeSwap (DEX).

Lucky Block tokenomics includes two types of tokens: V1 and V2. V1 is Lucky Block's native token that provides instant payouts to players, rewards from gaming pools, no blockchain fluctuations, and zero transaction fees when used to purchase in-game tickets. There are 100 billion LBLOCK V1 tokens available. In August 2022, LBLOCK V1's market cap was $18,508,889 and its fully diluted market cap was $45,389,569.

V2 tokens can be purchased on centralized exchanges including Gate, MEXC and LBank. Alternatively, you can buy LBLOCK on the decentralized exchange PancakeSwap (BEP-20). Unlike its predecessor Lucky Block V1, Lucky Block V2 does not impose taxes on the sale or exchange of tokens. According to the company, they are trying to provide a bridge for users who want to exchange their V1 tokens for V2 tokens.

There may be 100 billion LBLOCK tokens in the world. There are currently 99.6 billion tokens in circulation, as some may not yet be released or burned, and the total market capitalization of circulating tokens is $920,000.

Lucky Block, according to the creators, seeks to use the decentralized ledger of blockchain technology to make gambling less dependent on local financial institutions and increase its transparency, sustainability and security. The LBLOCK token is used to reward Lucky Block NFT holders, and holders receive daily rewards based on the number of NFTs they have. The reward pool is equivalent to 1% of the total profits from each competition.

In March 2022, Lucky Block launched its first NFT collection called Platinum Rollers Club on the NFT marketplace LaunchPad. There were 10,000 tokens in the original collection, of which 2,484 NFTs were sold. Each NFT holder was automatically given competition rights and a percentage of the prize pool.




Lucky Block Current Price and Price History
Source and Copyright ©
Trading View
The price of the LBLOCK token is $0.00002239, and over the entire existence of the coin, its price has fallen by almost 98%. The sales volume of the token over the past 24 hours is almost $367.

LBLOCK's price has fluctuated since its launch, peaking at $0.009617 in February 2022, but then falling to $0.001056 following the May 2022 sell-off.

In general, the price and its history of LBLOCK looks extremely dubious, given the trust of some network users. Such a low price without record highs with fairly loyal reviews and payments. Perhaps things will really get better soon, according to those who hold tokens in their accounts, but price information is vague and opaque.

Therefore, our verdict:

Bottom Line: Is Lucky Block a Scam or Not?
While working on the text, we, like crypto enthusiasts, had different opinions regarding whether Lucky Block is a scam or not. We cannot say for sure, but having some kind of audience that trusts the project, Lucku Block stays afloat in the media, losing ground almost only in price. And a little in the discussion field of messengers. As for other social networks and the site, it seems that the project should pay attention to those points that newcomers, beginners or users unfamiliar with the project look at. Otherwise, they won't see a new, fresh audience for a long time.

Overall, some sources indicate that the project may be associated with scams, while others note its unique approach to lottery games. Some users have criticized the lack of information in the white paper as well as team bios, while others have noted the daily rewards and profit potential of holding the LBLOCK token.

This is probably what we were programmed to do from the very beginning: not to trust casinos, gambling and betting, even if the company claims that everything is official and honest. It may be worth reconsidering your level of trust in such projects, but for now it's very scary to fit into such projects. And in this regard, we understand some of the users. Just as we understand those who decided to trust the project, play, and receive rewards.

In conclusion, we can highlight the key pros and cons of the Lucky Block project:

Pros:
Lucky Block offers a unique approach to lottery games and the opportunity to earn passive income through dividends from NFT assets and daily competitions.
Lucky Block has exciting plans for the future: creating Lucky Block merchandise, online scratch cards, creating a charitable foundation, and even launching a Lucky Block NFT.
Lucky Block has raised over £1 million in funding, which could be a positive sign for the project's potential success.
Minuses:
Reviews about the legitimacy of Lucky Block are mixed, with some users expressing concern that it is a scam.
The price of LBLOCK tokens has dropped significantly since their launch, which is a warning sign for potential investors.
Some users criticized the lack of information in the official document and the team's biography, which could cause concern among potential investors.
Cryptocurrencies are high-risk assets and investing in Lucky Block involves risk.
Careful analysis and additional due diligence is recommended before investing in any cryptocurrency, including Lucky Block.
Our final verdict for Lucky Block: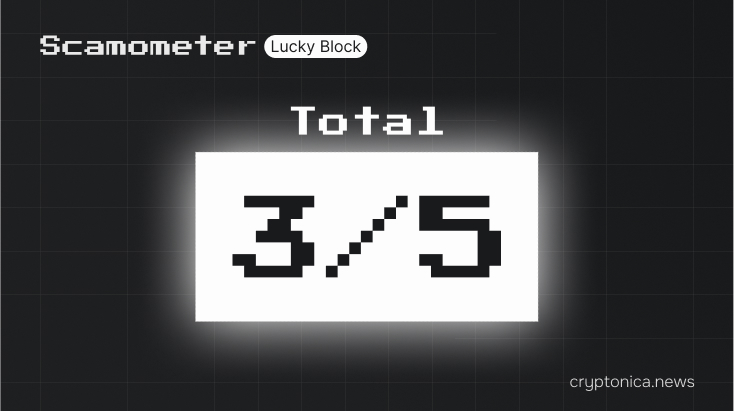 ---
---