How to Buy Ethereum on eToro
08/16/2023
---
In this article, we will take a detailed look at the process of buying Ethereum on the eToro platform.
Okay, we've dealt with BTC, now it's time to look at how to buy other cryptocurrencies like Ethereum on eToro. We'll tell you right away that the process will not be very different from buying Bitcoin, but we'll still show you the process so that you don't get confused and choose the right cryptocurrency. But before we delve into our step-by-step guide on how to buy Ethereum on eTore, let's have a quick walkthrough of what is this platform all about and what makes it a preferred choice for crypto traders and beyond.
What is eToro Platform?
eToro is a platform offering a unique blend of social trading and multi-asset investment opportunities. It became one of the earliest platforms to introduce digital currency trading by incorporating support for Bitcoin (BTC) back in 2013.
---
---
The origins of eToro date back to 2007 in Tel Aviv, founded by the Assia brothers, Ronen and Yoni, alongside co-founder David Ring. Yoni Assia helms eToro as its CEO, while Ronen Assia holds the position of executive director. The platform made its debut with a visual FX trading platform in September of that year. 
eToro's goal is to provide a unified web and mobile platform where users may trade virtually any asset, including commodities, currencies, equities, indices, and cryptocurrencies. For American investors, eToro offers around 30 cryptocurrencies, and for those outside the U.S., there are approximately 75 options.
eToro's distinct feature allows users to replicate the trades executed by other investors. Those who develop their trading strategies can earn annual rewards of up to 2% of their average balance. The platform also boasts specialized news feeds dedicated to specific coins. These news feeds, coupled with chat functionalities, offer newcomers a deep dive into the cryptocurrency market.
eToro is regulated by reputable authorities globally, including FINRA and FinCEN in the U.S., and the FCA in the U.K. U.S. investors have additional protection with FDIC insurance covering cash funds up to $250,000 against platform failure. While eToro doesn't provide third-party insurance coverage for crypto assets, users in Europe and other regions benefit from non-crypto asset insurance by Lloyd's of London.
Assets on the eToro crypto trading platform are mainly retained in cold storage, while those in the eToro Money crypto wallet are saved on the blockchain to limit the risk of loss due to a hack or operational error. In addition, eToro requires its users to enable two-factor authentication (2FA). 
eToro also offers a solution for beginners who are hesitant to invest their own money right away. Users of eToro receive a demo account with $100,000 deposited into a "virtual portfolio". This allows users to learn and practice cryptocurrency investing and other forms of trading without incurring any risk.
Now that we've learnt about the platform let's find out what are the steps of buying Ethereum. 
How to Buy Ethereum on eToro
Step 1. Create Your eToro Account
Begin the process by heading to eToro and starting the signup process. You need an account to be able to buy any cryptocurrency on the platform, so create your email address and pick a secure password. Afterward, you will need to provide additional information such as your name, home address and phone number. This is important for account verification purposes; you must upload both proof of identity (POI) and proof of address (POA). Typically, a driver's license and passport are accepted as POI. Alternatively, a utility bill or bank statement can be used for POA.
Source and Copyright © eToro (here and later in this article)
Step 2. Search For Ethereum On The Platform
Visit the cryptocurrency page by clicking on 'Discover' and then selecting 'Crypto'. Here, you'd need to search for Ethereum (ETH). Unlike Bitcoin which appears as the top result, it may not be the case with Ethereum. You can utilize the search bar and type in Ethereum to find it. This will bring up a list of different cryptocurrencies with Ethereum being one of them. You'd need to click on the list item and select 'Trade', which is conveniently located beside it.

Step 3. Create Your Ethereum Order
When you click on 'Trade' or 'Invest', you will be directed to the order panel specifically designed for Ethereum. From there, you can enter your desired investment amount. You have the flexibility to switch between 'Amount' and 'Units' by clicking the button on the right. The 'Amount' option allows you to set the dollar value of Ethereum that you want to purchase. You can adjust the value using the plus and minus buttons or choose an exact figure. Alternatively, you can buy units that involve purchasing fractions of Ethereum.
Step 4. Confirm Order Purchase
To initiate a trade, simply select the desired quantity and click on the prominent blue button labeled 'Open Trade' or 'Deposit Now', depending on your specific order. Please note that your order will only be accepted if you have an approved profile with eToro, meaning that you have provided them with valid proof of your identity and address. If you're unsure about the status of your profile, feel free to reach out to their support team for assistance. Once your order is accepted, the purchase of Ethereum will be completed.
Yep, Vitalik Buterin is happy!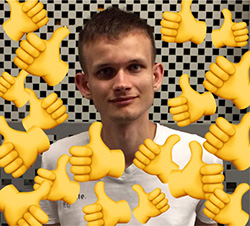 FAQ
How do you buy crypto on eToro? 
To buy crypto on eToro, follow these steps:
First, create or log into your eToro account.
Navigate to the "Discover" section and select "Crypto".
Browse through the available cryptocurrencies and click on your preferred coin.
Click the "Invest" button.
Enter the amount you wish to invest.
Confirm your purchase.
Once the transaction is approved, the cryptocurrency will appear in your eToro portfolio.
How do I directly buy ETH? 
To directly buy Ethereum (ETH) on platforms like eToro:
Sign in or register for an account on eToro.
Navigate to the cryptocurrency section.
Search for Ethereum or ETH in the search bar.
Once on the Ethereum page, click the "Invest" button.
Specify the amount you want to invest in ETH.
Review and confirm your purchase.
After approval, the purchased ETH will be added to your portfolio.
How to buy Ethereum for beginners? 
Choose a reputable cryptocurrency exchange platform.
Sign up and verify your account, following the platform's specific guidelines.
Add funds to your account. This can typically be done through bank transfers, credit cards, or other payment methods offered by the platform.
Navigate to the section where you can find cryptocurrencies.
Search for Ethereum or ETH.
Click "Buy" and specify the amount you wish to invest.
Review the details and confirm your purchase.
Can I buy all crypto on eToro? 
While eToro offers a broad range of cryptocurrencies, including popular ones like Bitcoin, Ethereum, it doesn't support every single cryptocurrency in existence. The number of cryptocurrencies available to U.S. investors is around 25, while non-U.S. investors have access to about 75 cryptocurrencies on the platform. Always check eToro's official website or app to see the current list of supported cryptocurrencies before planning any investments.

---
---