How to Buy Bitcoin on eToro
09/14/2023
---
By the end of this comprehensive guide on how to buy Bitcoin with eToro, you should be well-equipped to make your first purchase with this platform.
Have you heard about all the craze about Bitcoin and began wondering, "Where to buy Bitcoin?" Well, you're not alone! Bitcoin has become one of the most popular forms of cryptocurrencies and its popularity is growing by the day. With the simple steps outlined below, you will be an expert in knowing how to buy Bitcoin on eToro, one of the most popular platforms for trading.
As a famous brokerage platform for buying Bitcoin, eToro makes it straightforward to purchase Bitcoin without any hassle. If you are searching for the best guide on how to buy Bitcoin on eToro, you've come to the right place.
Disclaimer. It's important to note that trading cryptocurrencies can be highly speculative and risky, and users should do their own research and consult with a financial advisor before making any investment decisions. This article is written for informational and educational purposes; it is not a financial recommendation.

What is eToro?
eToro is a social trading and multi-asset brokerage platform with offices in Cyprus, Israel, the United Kingdom, and the United States. With eToro account it allows users to trade stocks, cryptocurrencies, commodities, ETFs and indices as well as copy top traders (copy trading) from all over the world. With its innovative CopyPortfolios feature that invests customer funds according to predefined strategies, eToro is a popular platform for both beginner and experienced investors alike.
With over 3000 assets available, the platform offers a wide range of possibilities to invest in Bitcoin and other cryptocurrencies. As one of the first companies to offer crypto trading, eToro is an ideal place for newbies in the market and experienced traders alike. Although it is not available in all countries, those that have access to it can start trading Bitcoin right away.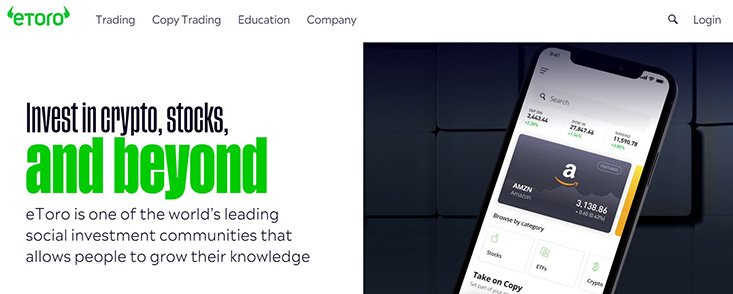 Source and Copyright © eToro (here and later in this article)
How to Buy Bitcoin on eToro: Step-by-Step Guidance
Step 1. Sign Up On eToro
Start by visiting eToro.com and begin the signup process to create eToro account. You'd need to enter your email address and create a password to go along with it. eToro will eventually ask for additional information such as your name, address and phone number. Once you have answered all of these questions, you are ready to start trading on the platform. This is needed to verify your account. You'd need to ensure that you upload both proof of identity (POI) and proof of address (POA) as required. This is a part of the KYC (Know Your Customer) process, which is mandatory to ensure that you are a legitimate user.

Step 2. Search For Bitcoin On The Platform
Navigate to the cryptocurrency page by clicking on 'Discover' and then selecting 'Crypto'. From there, you can either choose Bitcoin or utilize the search bar to find it (BTC). Bitcoin will appear as the top result, accompanied by a 'Trade' button conveniently located beside it. Make sure you are selecting 'crypto' and not in any other asset category as this will give you the wrong page.

Step 3. Begin Your Order
By clicking on the list item, you'll be directed to an information page with detailed assets on Bitcoin. Alternatively, if you click on the 'Trade' button, you'll be taken to the order panel specifically for Bitcoin. Clicking on 'Invest' will also bring you to the same order panel. No matter which option you choose, you will eventually be taken to the order panel. On the order panel, enter the amount of Bitcoin that you'd like to buy. You can use either dollars or your local currency (if supported).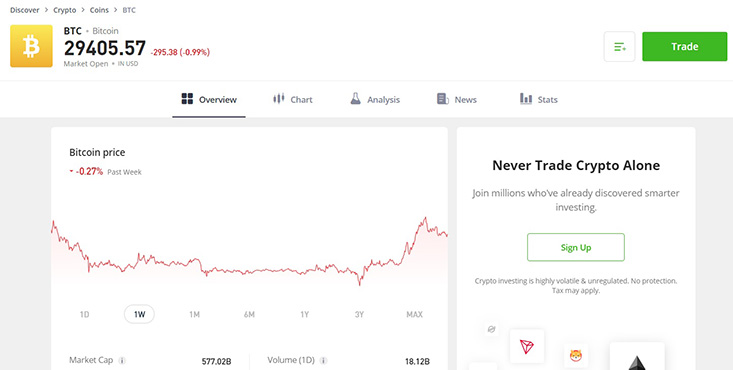 Step 4. Enter Your Buy Order Details
Please choose the desired investment amount. You can easily switch between 'Amount' and 'Units' by clicking the button on the right. With the 'Amount' option, you can set the amount in USD that you'd like to purchase Bitcoin for. Either use the plus and minus buttons or select the exact amount you'd like to buy. The alternative option of buying 'Units' involves the purchase of fractions of a Bitcoin known as SATs. It's important to note that you'd need a minimum of $10. It is also necessary to have sufficient funds in your account. Failure to do so will result in a prompt to deposit the required amount.
Final Step. Complete Order Purchase
After choosing the desired quantity, simply click on the prominent blue button entitled 'Open Trade'. It may also be 'Deposit Now', which will vary depending on your specific order. The system will only accept your order if you already have an approved profile, meaning that you have provided eToro with proof of your identity and address. If you are not sure if you have an approved profile, you can contact their support team. Once your order is accepted, the purchase of Bitcoin will be completed. Congratulations, you made it! You have successfully completed the quest to create an eToro account and buy Bitcoin.
---
---
eToro Review: Fees, App and Wallet
Now that you've gotten a comprehensive instruction on how to buy Bitcoin on eToro, it's time to learn more about the platform. We will tell you about eToro fees, how the app works, and the wallet that can be used to make all cryptocurrency transactions.
eToro Fees
You can buy Bitcoin and other crypto on eToro with a flat 1% commission. This commission is added to the market price and is included in the price you see when you open or close a position. For example, if you buy 1 bitcoin at a market price of $40,000, you will pay a commission of $400. This commission is reflected in the P/L (profit and loss) of your position, which will show a loss of $400 immediately after opening the position. The P/L figure will be updated in real time as the market price changes.
Crypto Asset Transfer. Cryptoassets can also be transferred from the eToro platform to the eToro Money crypto wallet. There is a small fee for transferring crypto assets, which is usually around 0.1%. For more information on fees and cryptocurrency transfer limits, visit the eToro website.
eToro App
Trading on on the go is simple with the help of the eToro app, a mobile-friendly version of the platform. The eToro app contains a number of practical tools that will aid new investors and traders in learning how to swiftly purchase Bitcoin as well as buy or sell other cryptocurrencies.
Here are some key features of the app, its chips:
User-friendly interface that is easy to navigate
Real-time market data that allows you to make informed trading decisions
Copy trading: ability to copy trades of other successful traders
A variety of educational resources to help you master trading
A reliable and secure platform regulated by the Financial Conduct Authority (FCA).
If you're looking for a mobile trading platform that offers a wide range of features and is easy to use, the eToro app is a great option.
eToro Wallet
An important part of the platform can be called eToro Money wallet. Now we will explain its features and how it can be used to buy Bitcoin and other cryptocurrency transactions.
eToro Money is a cryptocurrency wallet that allows you to store, send and receive cryptocurrencies. You can also use eToro Money app to buy Bitcoin, Ethereum, Dogecoin and other crypto and sell cryptocurrencies on the eToro platform. The eToro Money wallet allows you to store, send and receive over 120 cryptocurrencies.
---
---
Features of eToro Wallet:
Easy to use: eToro Money is a user-friendly wallet that is easy to set up and use. You can create an account in minutes and start storing your crypto assets right away.
Security: eToro Money utilizes industry-leading security measures to protect your crypto assets. Your funds are stored in cold storage and protected by two-factor authentication.
Wide range of supported cryptocurrencies: eToro Money supports over 120 cryptocurrencies including Bitcoin, Ethereum and Litecoin.
Low fees: eToro Money charges low fees for storing, sending and receiving crypto assets.
It seems like a good crypto wallet, though there are certainly questions about whether it's convenient to use off-platform or whether it's easier to opt for Trust Wallet or something similar. Either way, it's worth checking out eToro Wallet since you're interested in the topic of buying Bitcoin.
Frequently Asked Questions
How to Buy and Trade Crypto with eToro Money?
To buy and trade crypto with eToro Money, you need to open an account with the platform. Once you are in, you can choose the asset of your choice and proceed to fund it. After that, you can start trading crypto on eToro's intuitive platform. Through the dashboard, simply select the asset you want to trade and set up the order.
How to Buy Stocks like Tesla Stock on eToro?
First, you need to create an eToro account. Once your account is created you need to deposit funds into your account. On the eToro platform, search for Tesla stock via their search bar. Once you've found Tesla stock, select how many shares you want to buy and click on the 'Trade' button. You will then be prompted to confirm the details of your order before submitting it. After confirmation, your Tesla stock will be bought at the current market rate.
How to Transfer Crypto from eToro to Wallet?
To transfer your crypto from eToro to an external wallet, start by logging into your eToro account. Visit the 'Portfolio' tab and select the cryptocurrency that you are looking to transfer. This will show a view of all of your open trades for that specific crypto. Select the 'Edit Trade' option and continue with 'Transfer to Wallet'. Confirm the transaction and the crypto will be on its way into the wallet of your choice.
How do I Buy Bitcoins on eToro in USA?
After you've created your account on eToro, link your debit or credit card with your account to begin funding your account. This option should come up when you select 'Deposit Funds'. Once your account is funded, search for Bitcoin and start the trade. Remember to review your purchase prior to completing the trade. With these simple steps, you can start buying Bitcoin on eToro in the USA.
Does eToro Let You Withdraw Bitcoin?
Yes, eToro lets you withdraw Bitcoin. There is a 'Withdraw Funds' option available when logged in that enables users to withdraw their funds into an external wallet as well as into fiat currency. Withdrawing into fiat currency serves as a sell order and you will no longer own Bitcoin. External wallet withdrawal enables the self-custody of Bitcoin.
---
---
Elon MuskVitalik ButerinTrust Wallet