What Is Bonk Coin and Is It a Scam? Reviews, Opinions and DYOR
11/14/2023

---
Bonk coin made its debut on the scene in December 2022 as the first Solana dog theme coin. This meme coin came with a mission to be the coin "for the people, by the people" and to support the Solana community. Whether it worked, we'll tell you now.
The year 2022 proved to be a challenging period for the cryptocurrency market, and Solana was no exception. It was notably impacted by its association with the collapsed FTX exchange and the loss of two prominent Solana NFT collections.
Bonk coin made its debut on the scene in December 2022 as the first Solana dog theme coin. This meme coin came with a mission to be the coin "for the people, by the people" and to support the Solana community. This token swiftly captured the attention of the crypto world, thanks to its surging value and expanding base of users.
According to Bonk's whitepaper, the creators of the coin had enough with the toxic "Alameda" tokenomics, referencing Alameda Research's destructive influence on SOL's tokenomics. Their aim was to introduce a lighthearted meme token that promoted equitable opportunity.
The mention of "Alameda" refers to Sam Bankman-Fried, the founder of FTX, who held substantial holdings of tokens like Solana through his trading firm, Alameda Research, resulting in significant centralization. When his companies faced financial challenges, Solana and other tokens with sizable holdings witnessed a decline in value. The creators of Bonk were dissatisfied with how Bankman-Fried could manipulate the system for personal gain, hence their aspiration to create a token that serves the broader community.
A noteworthy aspect of Bonk's distribution strategy is that 50% of its total supply was airdropped to the Solana community, with the primary aim of restoring liquidity to decentralized exchanges built on the Solana blockchain. Many of these tokens found their way into the wallets of prominent NFT developers, investors, and other influential figures. This airdrop had an immediate and positive impact on the Solana price.
Initially met with skepticism and written off as a potential scam due to the airdrop's surprising nature, Bonk rapidly proved wrong. The token's value skyrocketed by over 2,000% in a single week, hitting a market cap of over $200 million.
Bonk Coin Reviews and Opinions: Reddit and X
The cryptocurrency community on Reddit is never shy about sharing opinions, and Bonk has sparked a  debate amongst its users. Here's a cross-section of the sentiments expressed within the threads of r/cryptocurrency and other related subreddits:
One user warns, "It's as simple as this: Bonk is straight-up gambling. I don't like gambling and I don't like it when people are promoting gambling under the guise of an innocent fun. Someone is gonna get hurt".
Conversely, another Redditor exudes optimism, "This coin is still going strong even after the first dump. This coin is unbelievable I wouldn't be surprised if Elon jumps into this one. Best coin in the crypto space for sure. The utility alone is amazing".
One user boldly speculates on the future, saying, "I'd even go as far to say that despite it being a meme, it could potentially unravel to be a utility coin at some point".
"Memecoins that copy other meme coins are blatant cash grabs with no love behind it," states a critic, articulating a common concern that some meme coins may lack originality or long-term value.
"A lot of people here probably see this as just another rug on the Chain and will just be negative and maybe they are right. But I also feel like it's going to be more positive for SOL then negative", muses another user.

Community, Website and Social Media Accounts
The Bonk coin maintains a minimalistic online presence with a straightforward one-page website that offers just the essentials. However, its X account boasts a large followers including influential figures in the cryptocurrency space, prominent crypto influencers and major Solana-based projects like Raydium, Orca, and Injective, among others.
Source & Copyright: Bonkcoin.com
The engagement on their X is vibrant, with a highly active user base that frequently participates in discussions, comments, and retweets. This community interaction is further amplified by the regular announcements of various events and partnerships.

Founders and Investors of Bonk 
The identities of Bonk's founding members have not been disclosed, maintaining a level of anonymity that is common among memecoin ventures. 
The official website offers minimal information, comprising primarily the one-pager and links to various BONK-related resources. What is known, however, is that the Bonk founding team consists of 22 individuals, all of whom are members of the Solana community.
The Bonk team used the Dexlab launchpad to create the token and leveraged tools provided by the Famous Fox Federation, a prominent NFT collection based on the Solana blockchain, for the distribution of the airdrop. 
Bonk Tokenomics: Supply, Allocation, Use Case
Bonk coin is primarily used for two purposes: price speculation and payments. It has been integrated into numerous projects on the Solana blockchain and can be used on BonkSwap.
As previously stated, half of the token supply was distributed via airdrop to members of the Solana community. Out of this allocation, 20% was earmarked for owners of 40 different Solana NFT collections, which together encompass around 297,000 collectible items. Additionally, early traders were allocated 15% of the tokens, while Solana-centric artists and collectors were designated 10%, and Solana developers were allocated 5%.
Another fifth of the token supply was set aside for the project's initial contributors, numbering 22, with the understanding that these tokens would be vested over a three-year period. Future contributors and developers stand to benefit from a 5% reserve that has been set aside for ongoing contributions and advancements. Furthermore, the DAO (Decentralized Autonomous Organization) will be allocated 15% of the tokens. The final 10% of the supply has been split equally between marketing efforts and providing initial liquidity.
The launch of Bonk coin was underpinned by a commitment to equitable token distribution within the Solana community, intentionally bypassing the route of venture capital and private investment.

Bonk Current Price and Price History
Within a few weeks of the initial airdrop, the price skyrocketed over 2,000% and reached a market cap of over $200 million. BONK's initial listing price was a mere $0.0000001087, climbing to $0.0000001486 by the end of 2022.
The upward trend continued into the new year, with its price reaching $0.000001197 by January 3, 2023. The token's value soared to an all-time peak of $0.00000487 by January 5, 2023. In the wake of this surge, the Bonk team announced on Twitter that they had eliminated 5 trillion of their own allocated tokens, representing 5% of the total token supply. This action, typically intended to enhance a token's value, initially led to a price dip for BONK. Although the price did recover somewhat, it never returned to the highs of January.
As of October, 2023, BONK is priced at $0.000001833   and has a market capitalization of approximately $99, 2 million. 
Source & Copyright: TradingView

Bottom Line: Is Bonk a Scam or Not?
Bonk shares common traits with other leading meme coins in the cryptocurrency market. Its primary objective was to provide Solana with a fair opportunity to establish a meme-based community. 
Nevertheless, as Bonk began to gain traction in the market, developers swiftly sought ways to integrate it into DeFi applications and games throughout the ecosystem. The Bonk infrastructure has expanded to include a suite of tools within its ecosystem.
For instance, BonkSwap is a decentralized exchange operating on the Solana blockchain. Additionally, the Bonk NFT Mint tracker consolidates an automated inventory of all presently minted NFT collections.
 To date, $BONK boasts over 131 integrations across 9 different blockchain networks. These collaborations encompass various DeFi and gambling applications, as well as payment solutions and social media tipping services. The adoption of Bonk continues to increase, with over 400,000 holders and listings on 25 different centralized and decentralized exchanges.
The team behind the project is anonymous, however, Bonk has the support and recognition of the Solana community.
Nonetheless, as with all meme coins, Bonk is subject to the typical speculative and volatile nature of such assets. Considering these factors, our team assesses this project to be of moderate risk.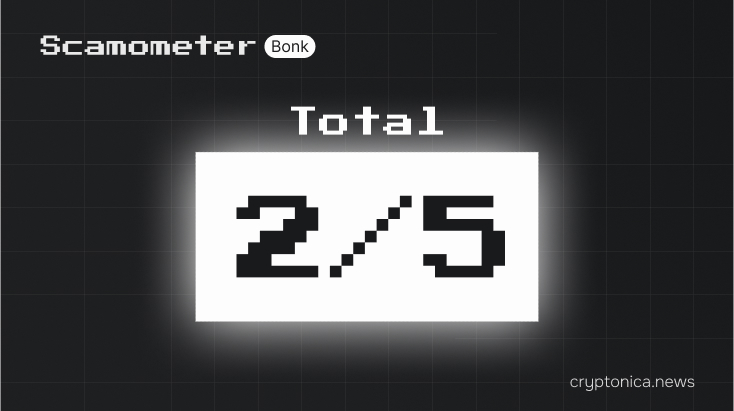 ---
---
About the author