How to Buy Dogecoin on eToro
08/17/2023
---
if you're itching to get a piece of the Dogecoin pie but don't know where to start, this step-by-step guide is tailored specifically for traders looking to invest in Dogecoin via the eToro platform.
Dogecoin is a popular meme coin that was initially intended as a joke and an alternative to traditional cryptocurrencies. The coin was inspired by the popular "Doge" internet meme and a Shiba Inu dog with captions written in a humorous, intentionally broken English style.
However, what started as a joke quickly gained traction and became one of the most recognizable cryptocurrencies in the market. We have previously written an instruction on how to buy Bitcoin on eToro, and in this article we will give a step-by-step guide on how to buy Dogecoin on eToro. 
How to Buy Dogecoin on eToro
Step 1. Create Your eToro Account
Your first step is to begin the signup process and create your eToro account. Create your email address and pick a secure password; both of these will be what you use to log into the platform later on. To complete the account verification process, please provide additional details for KYC. We also described the process of creating an eToro account in detail in the article about buying Bitcoin.
---
---
Step 2. Search For Dogecoin On The Platform
You'll now need to navigate to the cryptocurrency page by clicking on 'Discover' and selecting 'Crypto'. Search for Dogecoin (DOGE). You can either use the search bar or scroll through the list of available cryptocurrencies until you find it. Clicking on it will bring up a list of information about it, including recent prices and trading volume. On the list item, you'll be directed to an information page with detailed assets on Dogecoin.

Source and Copyright © eToro (here and later in this article)
Step 3. Create Your Dogecoin Order
Alternatively, if you click on the 'Trade' button, you will be taken to the order panel specifically for Dogecoin. On the order panel, enter the desired amount of Dogecoin that you'd like to buy. You can use either dollars or your local currency (if supported). Please choose the desired investment amount. Easily switch between 'Amount' and 'Units' by clicking on the button on the right.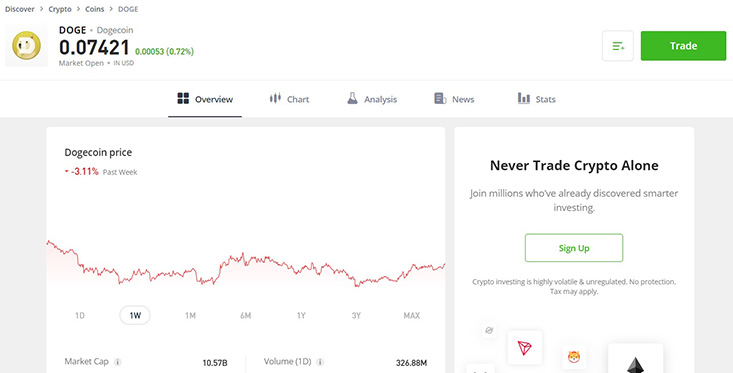 Final Step. Confirm Order Purchase
Once you have chosen the desired quantity, click on the prominent blue button labeled 'Open Trade' or 'Deposit Now'. The system will only process your order if you have a verified profile with eToro. If not, contact their support team and follow any additional instructions. Once accepted, the purchase of Dogecoin will be completed.
You did it, Elon Musk is dancing with happiness!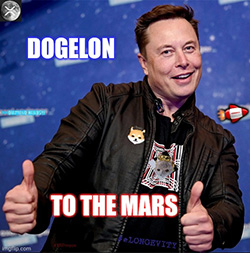 What is eToro Wallet?
When engaging in cryptocurrency trading on the eToro platform, the option exists to withdraw your assets to an external crypto wallet known as eToro Money. This app can be downloaded onto iOS and Android devices, effectively functioning as a conduit for managing your digital holdings. Your login credentials for the eToro Money app align with those of your eToro trading account.
For seamless cryptocurrency management on the go, eToro provides the eToro Money mobile crypto wallet. This tool facilitates the storage, tracking, and transfer of cryptocurrencies. 
The eToro Money crypto wallet enables the transfer of cryptocurrencies from the eToro trading platform. Beyond this, users can send and receive cryptocurrencies to and from other wallets, a process often accomplished within minutes. The choice of using public addresses, QR codes, or the recipient's QR code simplifies the process of sending and receiving crypto.
Furthermore, the wallet facilitates cryptocurrency conversion, allowing for seamless transitions between different digital assets. This is easily achieved by navigating to the Crypto tab on the application and selecting the desired cryptocurrency. Among the supported options for transfers, sending, receiving, purchasing, and conversion are Bitcoin, Bitcoin Cash, Ethereum, Litecoin, Stellar, Cardano, and XRP.
The eToro wallet places a strong emphasis on security. The eToro Money app incorporates features such as two-factor authentication and biometric data access to ensure robust protection. Notably, the wallet is provided by eToroX, a Gibraltar-based subsidiary of eToro, primarily serving institutional clients. This subsidiary is duly licensed by the Gibraltar Financial Services Commission (FSC1333B).
The security infrastructure of the eToro Money app includes advanced protocols to safeguard against unauthorized access. Key safety measures encompass multi-signature facilities, DDoS protection, and standardized protocols.
For the transfer of crypto assets from the investment platform to the eToro Money crypto wallet, a fee is applicable. This fee, denominated in units, is calculated based on the transaction size. Notably, the broker sets a cap for larger transactions, ensuring reasonable costs:
Coin transfer fee: 0.5% of the transaction size
Minimum fee: $1 (in units)
Maximum fee: $50 (in units)

FAQ
What is the fee for Dogecoin on eToro? 
The fee structure for trading DOGE on eToro involves multiple factors. There is a spread, which is the difference between the buying (ask) and selling (bid) prices. Additionally, eToro charges a flat 1% fee for cryptocurrency transactions. It's important to note that eToro's fee system is subject to change, and you can find the most up-to-date information on their official website or platform.
Do you buy crypto on eToro? 
Yes, on eToro, you have the opportunity to buy, sell, and trade a variety of cryptocurrencies, including Dogecoin (DOGE). eToro provides a platform where you can engage in cryptocurrency trading, as well as access to a mobile crypto wallet called eToro Money for managing and transferring your crypto assets.
Can I directly buy Dogecoin?
Yes, you can directly buy DOGE on eToro's trading platform. You can create an account, fund it, and then navigate to the cryptocurrency section where you'll find Dogecoin listed. The availability of specific cryptocurrencies might vary based on your location and local regulations.

---
---