BullStarter Launchpad Comprehensive Guide
07/26/2023
---
Looking for lucrative crypto investment opportunities? Find out how BullStarter Launchpad works and get rewarded by some of the most ambitious crypto projects.
The BullStarter Launchpad has been active since 2021 and has created the foundation for launching some of the most successful crypto projects, such as BLOK, HIGH, CSIX, SIN, HMND, and many others. With the launchpad's intuitive user experience and secure platform, users can confidently invest in promising new projects and expect high ROI.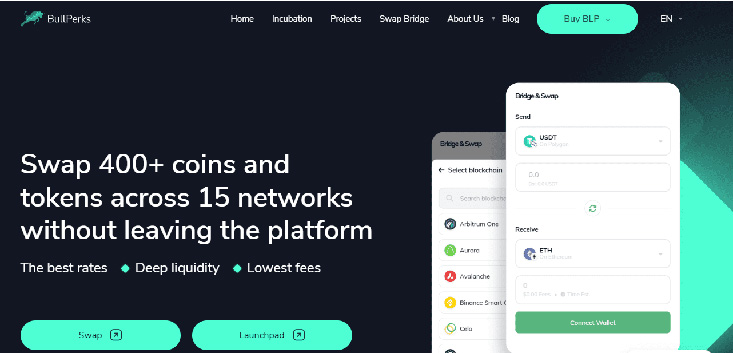 Source and Copyright © BullStarter (here and later in this article)
If you're new to the crypto world and looking for where to invest and earn succulent rewards, or you want to know how to get started on Bullstarter, you may want to learn more about the platform, how it works, and whether it's a good fit for you. Keep reading to find out more about BullStarter and how to invest.
What Is BullStarter?
BullStarter is the world's first community-focused decentralized VC (Venture Capital) platform using blockchain technology to drive fundraising for promising crypto projects. It is also a multi-chain launchpad on the BNB Smart Chain (BSC) that became very popular after it achieved a walloping average ATH ROI of 9500% at only six months of launch.
The platform gathers like-minded people ready and willing to invest together in fast-rising crypto projects on equal terms as VCs. That way, the company keeps supercharging fundraising for many ambitious NFT, gaming, and blockchain-based startups, catapulting them to global exposure and influence.
BullStarter diligently scrutinizes all crypto projects to present only the best-quality deals to investors. Such scrutiny ambles their community members to trust they're investing in safe and promising projects and expect to make succulent returns on their investments.
Of course, these are first of all statements of the project about itself, and we are not going to believe it completely, so let's review and analyze how BullStarter works. 
How Does BullStarter Work?
To participate in BullStarter, users must lock or stake their BLP tokens and join farming pools using BLP and LP tokens. Unlike some decentralized launchpads with initial high entry, only to favor private or premium members only after token prices shoot higher, BullStarter aims to offer everyone an investment opportunity.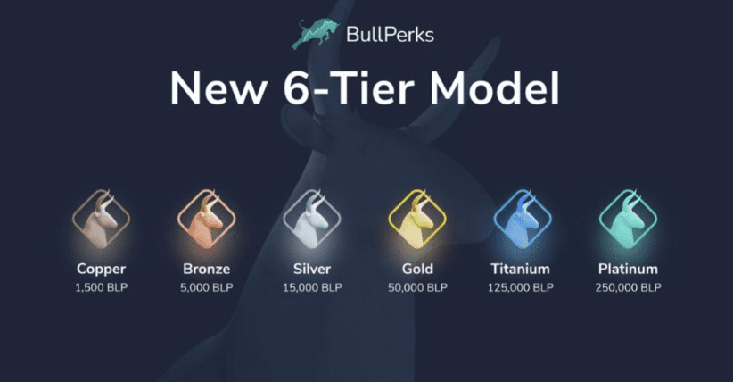 In order to democratize investment for their community, the platform follows a 6-tier system that allows low-entry access to early-stage crypto projects. These tiers include:
Copper Bull (1,500 BLP Tokens)
Bronze Bull (5,000 BLP Tokens)
Silver Bull (15,000 BLP Tokens)
Golden Bull (50,000 BLP Tokens)
Titanium Bull (125,000 BLP Tokens)
Platinum Bull (250,000 BLP Tokens)
Each tier has access to VC and IDO deals but with a limited ticket size which can be found on the deal's page.
The respective tiers can access VC and IDO (Initial DeX Offering) deals but with limited or specified ticket sizes listed on the deal's page. BullStarter has a Time Locker System that allows all participants to get a fair share for the deals to further democratize investments. That way, everyone participates in some deals - including low-tier members whom they intend to grant a sense of belonging.
Below are the time locker periods based on tiers:
Platinum Bull - No locking period
Titanium Bull - 1-day locking period
Gold Bull - 2 days locking period
Silver Bull - 2 days locking period
Bronze Bull - 3 days locking period
Copper Bull - 3 days locking period
According to BullStarter, they will review token amounts and levels in each tier and change them based on price surges. Doing so will enable them to create a fair investment field for Bulls that intend to move between tiers, thus allowing new Bulls to invest their funds efficiently.
Statistics and Performance
BullStarter ranks 7th in Cryptorank's ranking of Launchpads and IDO platforms based on current and ATH ROI (Returns on Investment) as of the time of this writing. Such a position can only imply that it has hosted and helped launch some well-performing projects.
Successful BullStarter Launchpad Projects
Out of over 65 successful projects on BullStarter, here are some of the best-performing projects: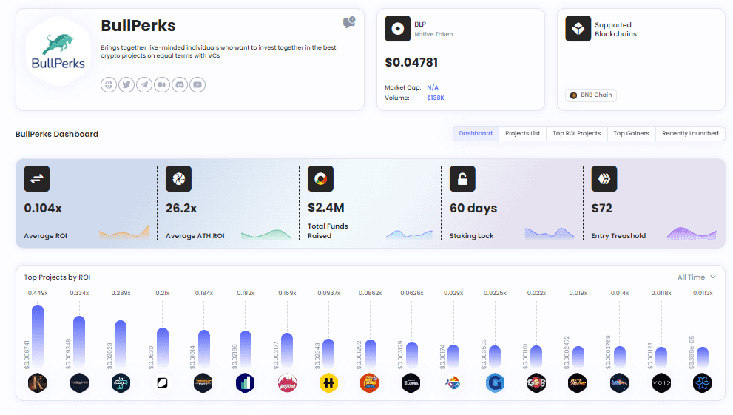 We will look at the projects that have generated a great market reaction, but note that we do not recommend investing in them without doing your own analysis, as they are all high risk.
Bloktopia (BLOK)
Bloktopia is a VR (virtual reality) tokenized Crypto Skyscraper built and powered by the Polygon Network. Its native token is $BLOK, and its Metaverse comprises real estate lands that can be purchased and governed by Bloktopians or BLOK token holders. On Bloktopia, you can earn by trading tokens, buying virtual real estate, advertising, designing artworks or scenes, and playing games.
The project was successful and launched with an IDO (Initial DEX Offering) ROI of 6.75x and a staggering all-time high ROI of 698.23x. It is one of the best. Its current market cap of about $29,545,432 is ranked #487 out of all cryptocurrencies on Coinmarketcap.
Highstreet (HIGH)
Highstreet, a decentralized Metaverse and MMORPG (Massive Multiplayer Online Role-playing Game) platform allows both crypto and traditional brands to easily and efficiently integrate and establish their presence in Highstreet World. As an MMORPG, it means multiple players can play games and interact seamlessly with each other in its virtual world.
HIGH saw an ATH of 37.6x in December 2021 but is currently down by 96.9% at its current price of $1.16. It is traded on 21 markets and 20 exchanges, Binance being the most active. 
Carbon (CSIX)
Carbon is a fast, secure, private web browser built by CarbonX Labs. It has a privacy-centric design, and it blocks ads and web trackers by default. Also, it loads 3x faster than other browsers, saves 95% of users' data, and provides seamless browsing even on poor connections.
CSIX's price is $0.0218 as of the time of this writing. It experienced an ATH of $0.416 in February 2023, so it's currently down by 94.7%. Its current circulating supply is 203.17M out of a maximum supply of 1 Billion and it trades on 11 markets and seven exchanges, Gate.io being the most active.
---
---
How Can I Participate in the BullStarter Launchpad?
Here is a step-by-step process on how to participate in the BullStarter Launchpad: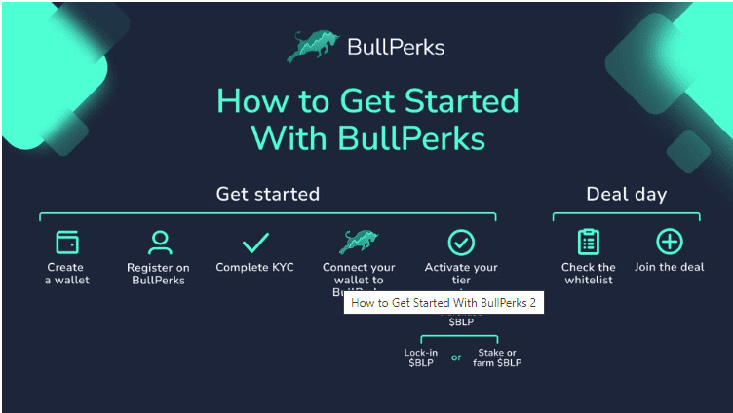 Step 1: Create a Crypto Wallet
To start using the BullPerks platform, you must create a crypto wallet. For simplicity and convenience, the platform recommends creating a MetaMask wallet.
Step 2: Register and Do KYC
Now, you must register on BullPerks, then complete the KYC process. Before participating in any of the deals, you must verify your identity. The reason is for security and compliance with international Anti-money laundering and Know Your Client regulations.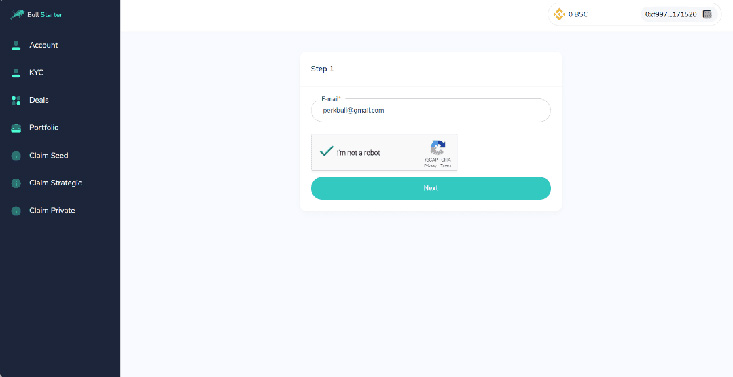 After that, you can now connect your wallet to the application. Note that some jurisdictions are prohibited, so you won't be able to complete the KYC process if you're in those regions. You can check here to know if your country is one of the prohibited regions. If you experience other KYC issues, you can check here for more information.
Step 3: Buy BLP Tokens
BullPerks runs a 6-tier system outlined above in the "How Does BullStarter Work" section. Your tier will be commensurate to how many BullPerks tokens you buy and lock or stake in the pools.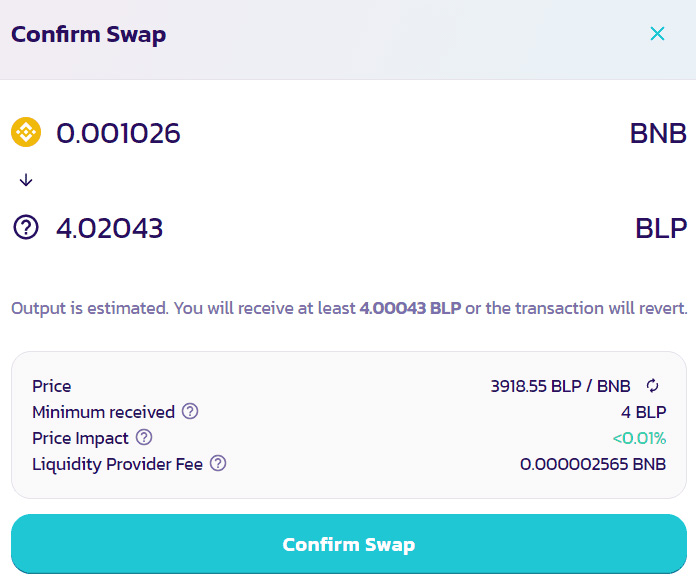 You can buy BullPerks on PancakeSwap, MEXC, BitMart, or LATOKEN. You can follow this simple guide to buy BLP tokens via PancakeSwap.
Step 4: Lock, Stake, or Farm BLP Tokens
You need to be in one of the tiers to participate in deals. The system will determine your tier based on how many BLP tokens you have locked, staked, or farmed. 
Locking BPL Tokens
Upon locking a certain number of tokens, you can participate in deals. However, your BPL tokens must remain locked over the duration of the deals so you don't incur a penalty. You can lock your tokens by navigating to the Account menu. You can also unlock your tokens when they are due by clicking Unlock and choosing how many tokens you want to unlock. Learn more about locking and unlocking BLP here.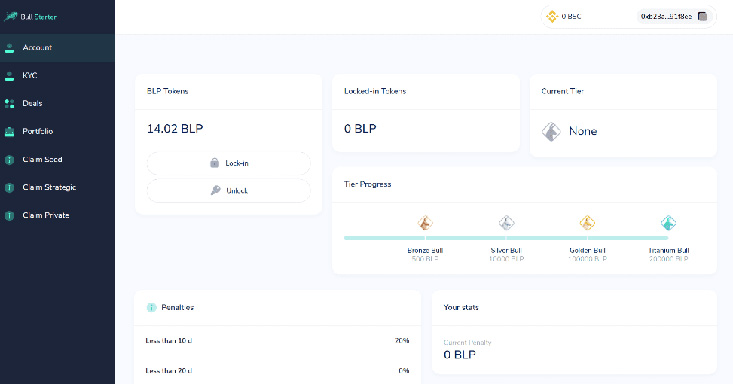 Staking BLP Tokens
Staking your BPL tokens is another way to activate your tier. By staking, you can make a passive income by allowing the BullPerks platform to use your funds to advance and validate transactions.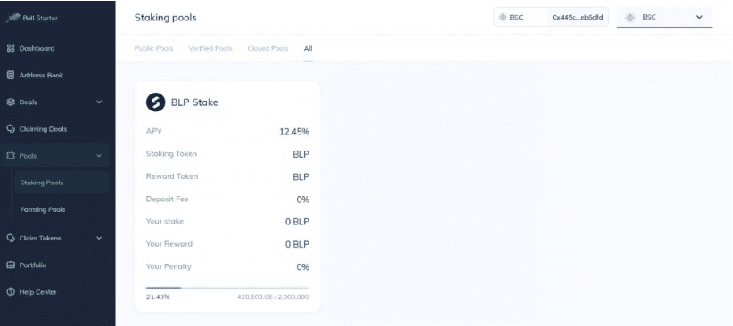 Farming BLP Tokens
Another way to activate your BullPerks tier is via farming your BPL tokens. The yield farming protocol rewards liquidity providers with high rewards and ROI in BLP tokens. You can check out this short tutorial if you're new to providing liquidity on PancakeSwap or staking LP tokens in the BullPerks farming pool.
Whitepaper
The BullPerks whitepaper has more extensive details on the Ecosystem, its Technical specification, Market Overview, Tokenomics, Roadmap, etc. Go here to download a copy of the whitepaper.
Project Team
Co-Founder
Eran Elhanani
Co-Founder
Constantin Logan
CMO (Chief Marketing Officer)
Serhat Erman
Project Manager
Dina Doroshenko
Operations Director
Eugene Kleiner
Head of Customer Support
Hamza Javed
Business Development Manager in Latin America
Vanessa Martinez-Bojanini
The company also has up to 10 strategic advisors contributing their wealth of experience to advancing their projects.
Should I Choose BullStarter Launchpad?
With over 65 projects listed on BullStarter, 130.83x average ATH ROI, 12.5 million raised capital, and 25,000 BLP holders, BullStarter seems like a solid and promising launchpad and decentralized VC platform. BullStarter is also ranked among the top 10 launchpads and IDO platforms based on ROI, which is a testament to its growth and success so far. However, it's always advisable to DYOR (do your own research) before investing in any crypto project or platform. You have to make an informed decision yourself and understand the risks, and they are huge here, just like in any other cryptocurrency project.
What Is The Future of BullStarter?
BullPerks has gone many miles into its roadmap, but they intend to do even more to improve efficiency, accessibility, and convenience for both clients and investors. Aside from increasing partnerships and growing their community, they are working to integrate BullStarter with more networks like Tezos, Elrond Polkadot, Cosmos, and Wanchain and add the BLP token to web3 wallets OKX and Nabox.
The platform also looks to incubate and launch top Web3 projects and bridge BLP to Polkadot and Ethereum. In the future, the team also looks to list BLP with the top exchanges, enable BLP locking and staking in Ethereum and Polygon networks, and create a BLP buy option directly on the launchpad.
Also, the team plans to incorporate more payment options for deals on the platform (USDT, USDC, and BLP). Users should also look forward to analytics to provide insights that will enhance deal targeting and user participation. These and more are what to expect from BullPerks in the future. You can also check out their roadmap in the whitepaper for more information on what to expect.
Frequently Asked Questions
Is BullStarter Safe to Use?
Maybe, because the company employs industry best practices to ensure your personal information's security and prevent unauthorized use. However, we want to warn you about the high risks that accompany any cryptocurrency project.
What are the Benefits of BullStarter Launchpad?
BullStarter is a reputable decentralized VC fundraising platform. Its advisers are highly experienced and have worked with some of the biggest brands in the world, and projects launched on the platform usually experience high ROI (130.83x average).
What Makes BullStarter Unique?
BullStarter is the first decentralized multi-chain VC launchpad in the crypto space. Users of all tiers can participate in most of the VC and IDO deals, thus democratizing investment and granting everyone a fair share of the pools after lock or farm periods.
---
---