The Ultimate Guide to Red Kite Launchpad and How to Participate in It
06/27/2023
---
This guide will teach you how the Red Kite Launchpad works, its requirements, and how to participate in IDOs of your favorite web3 projects.
Red Kite Launchpad is a top-tier platform allowing retail investors to partake in token pre-sales of carefully handpicked blockchain projects. Even as a beginner, you can participate in Red Kite IDOs (Initial Dex Offerings) of your favorite projects and get early access to their tokens and other special features.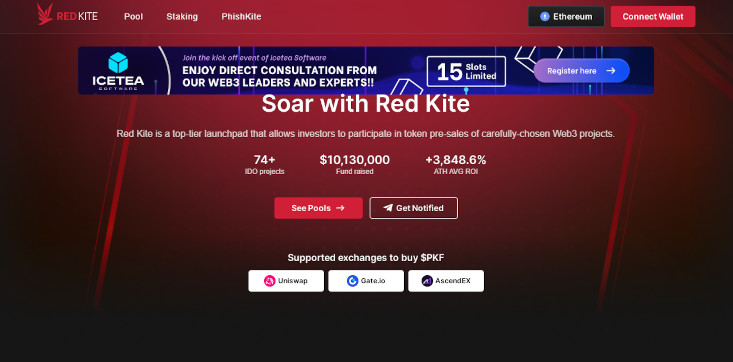 Source and Copyright © Red Kite (here and later in the article)
This guide will provide all you need to know about the platform as a new investor and how to invest in projects on the platform. That way, you can be able to make the best decisions and get more value for your funds.
What Is Red Kite?
Red Kite Launchpad is among the top platforms for launching blockchain projects. New crypto projects get exposed to target communities for retail investment and support through launchpads. In return, these early investors get foremost access to the most competitive project features at launch.
---
---
The platform has proven itself as one to reckon with, hosting projects like GameFi, Kryptomon, Dsync, Rebel Bots, and many other interesting projects. It is a multi-chain IDO launchpad running on Ethereum, Solana, BNB Chain, Polygon, and Terra. It's owned by the investment firm Icetea Labs and powered by PolkaFoundry. 
Its utility token is $PKF, the same native token for all applications running on the PolkaFoundry ecosystem. Prospective projects to be launched on the platform are thoroughly vetted and selected for IDO before being made available.
How Does Red Kite Work? 
Red Kite Launchpad provides the foundation for web3 projects to access retail funding and launch their products. Its native PKF token is for governance, and holders must stake their $PKF to qualify to participate in IDOs. The platform follows a tiered system, and your tier depends on the amount of PKF token you're staking. 
In essence, the more PKF staked, the greater your tier and staking reward and the higher your chances of being whitelisted. You can follow any of these two ways to get access to tokens of a project going to IDO on Red Kite;
Lottery System: Users get to receive tokens after the lottery
Guaranteed Token Distribution: You need a minimum of 40,000 PKF in your crypto wallet to guarantee token distribution.
Statistics and Performance 
Red Kite currently ranks 4th in Cryptorank's ranking of launchpads and IDO platforms by current and ATH (all-time high) ROI, only behind Seedify, Polkastarter, and DAO Maker.
---
---
What do you need to participate in IDO on Red Kite? 
To participate in IDO, you need to select the pool in which you will participate. With Red Kite, there are two types of pools - Pool IDO and Pool Community.
You must apply for a whitelist in the IDO Pool to participate in it. Also, only users who have a Red Kite Tier and verified identity can join the IDO Pool.
To get into the Community Pool, you must complete tasks on Gleam. Every user can participate, and you don't need to have a Red Kite Tier or identity verification to join the pool.
Disclaimer. Not financial advice. Do your own research. Following these steps doesn't guarantee you an airdrop. Don't risk funds you can't afford to lose.
Join IDO Pools
Below are the necessary steps if you want to participate in IDO Pools;
Stake PKF tokens to belong to one of the Red Kite tiers - Phoenix, Eagle, Hawk, or Dove;
Undergo a KYC (identity) verification process;
Apply for whitelist;
Wait and come back for the results of the staking pool allocations.
Join Community Pools
You do not need to belong to any particular tier or do KYC verification to participate in the Red Kite Community Pool. All you need to join a community pool is to finish social tasks on Gleam. Here's how it works:
Choose a Pool. You must choose the Pool you want to participate in by visiting the "Pool Community" section. Navigate to the pool dashboard's "Upcoming" area for more information.
Complete Gleam Tasks. The user must tap the "Join Contest" button to complete the tasks; then, they will be redirected to the Gleam competition page. Glean verifies action on social media channels, so you must complete the social tasks to qualify for entry into a community pool and be one of the usual 500 lucky winners.
Check Pool Allocation Results. Check the "My Pool" tab from your account settings to see if you are one of the community pool winners.
How to get whitelisted on Red Kite IDO
The process for getting whitelisted on Red Kite differs among projects. However, users must verify their KYC and belong to one of the tiers to qualify for whitelisting. The minimum amount you can stake is 500 PKF, but it doesn't guarantee that you will be allocated tokens by the project you're participating in their IDO. However, staking 40,000 PKF or above guarantees token allocation upon distribution.
Users can apply for the pool's whitelist when the period is open. You can follow the steps below to submit a whitelist application:
#1. Select the pool in which you want to apply for the whitelist
If the "Apply Whitelist" button is disabled, it means the whitelist application isn't yet open. So, you can find out the application period under the "Upcoming" area to the left of your screen.
#2. Tap on "Apply Whitelist" to display the application popup.
#3. Provide your Twitter and Telegram ID and fulfill the social requirements.
You'd be required to enter your Twitter and Telegram IDs. The requirements for joining a whitelist differ for each pool and are determined by the project. But only Dove and Hawk tier participants are mandated to perform the social interaction requirements. 
#4. Click the "Submit" button, after which you will be asked to confirm on your wallet.
#5. Click "Sign" on your wallet to confirm the whitelist application.
Your status will now display "Applied Whitelist." The date for announcing token allocation will be provided in the top left corner of your screen. Now you can wait for the allocation to be announced.
How to participate in Red Kite IDO
Here are a few simple steps you need to take to participate in a Red Kite IDO:
Step 1. Connect a crypto wallet
Connect your cryptocurrency wallet to the Red Kite Launchpad, preferably Metamask. Click the "Connect Wallet" button on the top right-hand corner of the project home page. It will direct you to a connection window to choose the cryptocurrency wallet or network you want to connect to. Also, ensure to accept the Terms of Service and Privacy Policy to proceed.
You can follow the on-screen instructions from the crypto wallet window and instantly connect your wallet. Upon connecting your wallet, the crypto wallet number will be displayed in place of "Connect Wallet," and you will now also find a "My Account" button.
Step 2. Buy PKF tokens
To join an IDO on the Red Kite platform, you must have a certain amount of $PKF in your wallet. Here are exchanges on which you can buy the token:
Gate.io
Kucoin
AscendEx (Bitmax)
BingX
Step 3. Stake PKF Token
You need to stake PKF tokens in the staking pool. These staked PKF tokens earn you Red Kite points and determine the tier you belong to and whether you're guaranteed allocation during token distribution. 
A Red Kite staking pool can have one of these two statuses - Live or Finished. A Live or active stake pool still allows users to stake PKF and receive rewards, whereas a Finished or closed stake pool doesn't allow users to participate.
Two types of staking pools exist on the Red Kite platform:
Allocation Pool - provides rewards for creating a new block. The more your stake, the higher your reward.
Linear Rate Pool - you receive rewards based on how long you stake your tokens in the pool. 
There are pools where you can stake with or without IDO. Staking in a pool with IDO enables you to get a reward and participate in IDO. Click the "Details" tab to stake on any pool. As a first-time user, you must activate the pool before you stake your tokens.
Upon activation, click the Stake button and fill out the amount of PKF you want to stake. Doing that will open a Metamask transaction, which you'd be required to confirm. Upon confirmation, you can find the pool information in your account's "My Staking Pool" section.
Step 4. Select the project and participate in IDO
Navigate to the Pool page to find available IDOs to participate in. Then click on the "Detail" button of an upcoming IDO to see details like the currency, network, token cost, and allocated tokens to IDO. If everything looks good for you, you can go ahead and click on Apply Whitelist. The application popup will be displayed, and you can follow the same process in the "How to Get Whitelisted" section above to complete your application. It should look like the image below after successfully applying for whitelist.
Whitepaper
The Red Kite Launchpad is under the PolkaFoundry ecosystem. The PolkaFoundry project thoroughly documents its features, architecture, concepts, use cases, and other important details here.
Project Team
PolkaFoundry's team comprises highly experienced individuals with many years of experience in their respective fields. Some of them have worked with other reputable projects. The team includes:
CEO and Co-founder
Thi Truong
Head of Partnerships
Ron Nguyen
Head of R&D
Trang Mai
Head of Platform Services
Huy Hoang
Lead Engineer
Luong Hao
Should I choose Red Kite launchpad? 
Red Kite Launchpad is among the top and most trusted platforms providing IDO opportunities for new projects and connecting them to relevant communities. However, before investing in a project on the platform, you must DYOR (do your own research) and verify the project and platform yourself.
The following pros and cons of the platform may help you make better investment decisions:
Pros
Trustworthy platform based on information from users online;
Simple and user-friendly interface.
Cons
High cost of tokens required to get a guaranteed allocation in IDOs.
Frequently Asked Questions
Is Red Kite a Secure Platform?
Yes, Red Kite is safe to use because they scrutinize and verify projects' origin, genuineness, and innovative capacity before listing them. However, like all other cryptocurrency projects, this one may carry threats to your financial security. Be careful not to risk money you are not prepared to lose
How Can I Participate in Red Kite Launchpad Projects?
To participate in a Red Kite IDO, you must first connect your crypto wallet to the project website and buy and stake sufficient PKF tokens to belong to a tier. Finally, you must choose the project you desire to participate in, complete the application, and join the whitelist.
---
---