What Is Worldcoin and Is It a Scam? Reviews, Opinions and DYOR
11/09/2023

---
Have you ever sold your own eyes for a few dollars? Recently, Argentina saw huge queues of people lining up to sell their biometrics to the Worldcoin project, which is backed by Sam Altman, the éminence grise of artificial intelligence. Cryptonica dives deep into this project, explains why and how it buys people's eyes, and whether you should consider buying the Worldcoin cryptocurrency or is it just another scam covered by a famous person?
Worldcoin Reviews and Opinions: Reddit and X
Let's start off with the most honest: the opinions of human beings.
We polled crypto enthusiasts on X whether they think the Worldcoin project is a scam. 80% consider Sam Altman's "revolutionary" project a scam.
Source & Copyright Cryptonica on X
And that would be the end of our evaluation article, but we went further. We wondered what people actually think about Worldcoin.
Back when the project was launched in 2021, the ever-famous Edward Snowden said,  "The human body is not a ticket-punch".
And a lot of people get it:
Source & Copyright Reddit
Some were confused that the creator of ChatGPT, the notorious AI-powered chatbot, was behind the project. They voiced their suspicions that the Worldcoin concept itself was also written by artificial intelligence:
Source & Copyright Reddit
And speaking of the concept, many didn't understand the hype around selling their eyes in exchange for tokens:
Source & Copyright Reddit
Especially when some measly dollar is being given away for your eyes. And given the fact that 1% of tokens are in circulation, there is a huge chance that the price will only go down. 
While many people were indignant and shunned the project, others thought, "Maybe it's not all that bad?" and decided to participate in the initiative, but as it turned out, disappointment awaited here as well. Many complained about problems with access to the site, and in the early days of the launch of the technical document, not all countries could open and review it. Others reported poorly working app and inability to make transactions.
There are also those who support the project despite the issues and controversies that have arisen, but this is only a drop in the ocean of total anger.
In general, people are very skeptical of the project, calling it a scam and even a cult. But let's look into whether everything is so deplorable with Worldcoin. In the meantime:

Community, Website, and Social Media Accounts
| | | | |
| --- | --- | --- | --- |
| Platform | X | Instagram | LinkedIn |
| Followers | 240,8K | 8,8K | 17K |
| Comments | 80-230 per post on average | 15-30 per post on average | 10-15 per post on average |
| Reposts | 40-210 per post on average | — | 10-20 per post on average |
| Engagement | average | —  | —  |
| Community power | average | low | low |
In general, the presence on the Web speaks of Worldcoin as a project worthy of trust. The project website is also trustworthy: intuitive interface, a lot of information from the essence of the project and the team to the technical document and products. However, despite the fact that the project's community is active, the team is not in a hurry to communicate with it on their social networks, so:

Founders and Investors of Worldcoin
The founders of the Worldcoin project are Sam Altman and Alex Blania. Altman previously developed the famous ChatGPT, which caused an unprecedented surge in the popularity of artificial intelligence. Little is known about Blania. He has a bachelor's degree in mechanical engineering, started a master's program in physics but dropped out, was a researcher at Caltech, and only then joined Altman as one of the co-founders of Tools for Humanity.
Sam Altman is also known as an angel investor, he was the former president of Y Combinator, which helped develop such successful projects as Pinterest, Reddit, Asana, Airbnb, and Stripe. And while Worldcoin might be haloed with legitimacy just because of Altman's fame and earned credibility, Blania's university credentials aren't enough.
Another reason for doubts were questionable investors, including FTX founder Sam Bankman-Fried and bankrupt Three Arrows Capital. But it is worth mentioning that one of the investors was also the trustworthy Andreessen Horowitz. Yes, the Worldcoin project is valued at $3 billion, but let's face it, if not for the success of ChatGPT, its value would be much less. 

Worldcoin Tokenomics: Supply, Allocation, Use Case
Worldcoin token issuance is limited to 10 billion pieces: one per person. This is part of the project's mission to make a single digital identity and to attract everyone on the planet to the project through the money system. So utopian and overconfident, Sam.
On July 24, 2023, 143 million coins were released to the market. And 100 million of them were loaned to market makers operating outside the US.  75% of the issued coins were allocated to the community, 13.5% to the investors and 10% to the development team. Investor and developer tokens will be locked for 12 months after launch.
But wait, the idea of distributing tokens and the concept of "one coin per person" don't add up. The math is not mathing. In fact, the Worldcoin economy is very complex and is tied around two types of tokens, so an investor may have a problem understanding how the project works and what its risks are. The author already wants to give a negative in the scamometr column, but let's dig deeper and discuss the use cases.
Initially, the idea of Worldcoin came before the launch of ChatGPT and had a tenuous use case: to create a fair form of UBI, the principle of which is for every person on the planet to receive some amount of money. But with the advent and rapid development of ChatGPT, the concept of Worldcoin has expanded. And all because Altman quickly realized what kind of Frankenstein's monster he had unleashed into the wild. Yes, "Terminator" warned us about the enslavement of people by artificial intelligence, but humanity is doomed to learn from the mistakes made, not from warnings in the form of movies. And it seems, Worldcoin was Altman's answer to the potential problems that could arise amid the global adoption of artificial intelligence. The concept behind Worldcoin, he says, is to create a global identification system that will help distinguish humans from artificial intelligence. Here's what it sounds like:
You go to the site and you see the typical "Confirm you're not a robot." And you're like, "I can tag the pictures that show the bus." And the site goes, "No, we need your eyeball."
Yes, the way the whole project works is as follows: special physical devices in the form of spheres (orbs) scan your retina, which is as unique as your fingerprint. Worldcoin advertises this as a way to digitally identify yourself. Total control and unauthorized access to biometric data, its leakage or misuse are the first and foremost reasons that push people away from the project. And this is confirmed by the price movement of the token, which we will talk about a little bit later.
Let's imagine for a moment that Altman's next "big idea" has been materialized. Imagine you are at a charity event somewhere in the center of Stuttgart, surrounded by notable guests. Then a handsome young man with a cane in his hands walks into the gold-decorated hall with a confident gait. Must be one of the distinguished guests, you think. The stranger comes towards you and suddenly takes out your eye with his cane. Meanwhile, it turns out that his accomplices are on the other side of town trying to open your vault, which can be accessed through retinal scanning. Goodbye eye, goodbye vault contents. This is just a scene from Avengers, which immediately came to the author's mind when heard about the concept of Worldcoin. But you get the vibe, you don't want to be in that poor guy's shoes.

Worldcoin Current Price and Price History
At the time of writing (November 2023), the price of the WLD token is $1.8. Are you undervalued your eyeballs that much?
Source & Copyright TradingView
If you do the math, early investors and market makers own a total of 23.5% of the token, indicating a high probability of market manipulation. Immediately after the token was launched, it fell sharply in price. Experts attribute this to the fact that people realized the risks of collecting more personal information. Therefore, they have an opinion that the coin has no value and is probably a Ponzi scheme.
However, after the tokens were launched, they could be purchased on major exchanges such as Binance, OKX, Bybit, and Huobi, indicating increased trust from influential industry players. Therefore:

Bottom Line: Is Worldcoin a Scam or Not?
On the one hand, we can say that the Worldcoin project is legit - strong team, active community and constant development of its concept of unified digital identity. The technology works on the basis of zero-knowledge proof, which indicates an increased level of privacy. The team claims to constantly encrypt data and adhere to data protection regulations such as the General Data Protection Regulation (GDPR). In addition, independent companies are auditing the project for vulnerabilities, and management is actively engaging with regulators. 
But, remember, if one powerful person's project shoots, it's no guarantee that his subsequent projects are doomed to the same success. All the more so, enormous influence does not mean credibility. Altman's concept is unique, but it's utopian, and the price movement data only confirms it, as people show strong anxiety about the safety of their data and more. 
And if you think about it, does the world need this project? Altman argues that Worldcoin is designed to provide a secure distinction between humans and artificial intelligence. But there are much safer ways to do this without requiring overly private data from humans. Altman is also confident that his new project can expand economic opportunities, but practice is already showing that this is far from the case. People are not interested in the token. So far, this project really looks like a dystopia of the future or, a big move by big brother to increase control over people. So the overall bottom line: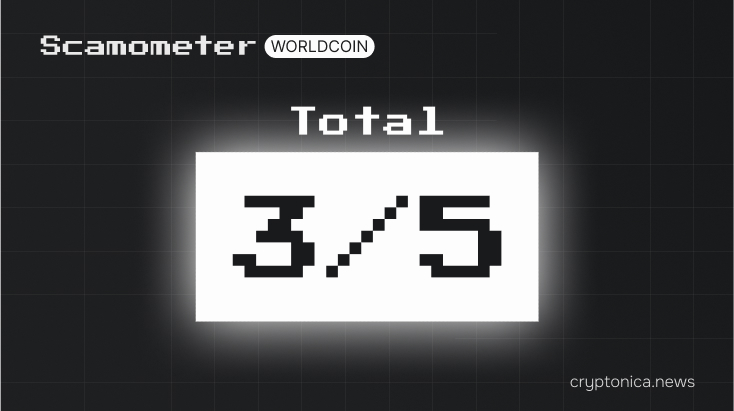 ---
---
Sam Altman Sam Bankman-Fried Binance ByBit OKX
About the author