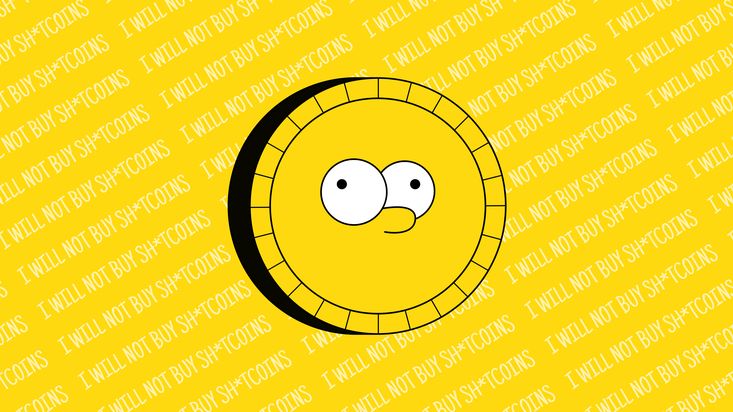 From The Simpsons to Eminem: Blockchain and Crypto in Pop Culture
10/31/2023

---
How are cryptocurrencies and blockchain mentioned in pop culture? Cryptonica breaks down the most famous cases and explains what the Bart Simpson Chart is
Cryptocurrency has become an integral part of modern culture and can be found in many forms of popular culture. She inspires artists, filmmakers, and musicians to create work that references or explores the world of cryptocurrencies. Let's have a look on the brightest examples of pop culture and crypto collab.
The Simpsons, Blockchain, and NFTs
Recently, the creators of The Simpsons series announced that in the upcoming Halloween episodes, the Simpson family will come face to face with blockchain technologies and NFTs.

The official announcement for three new episodes of The Simpsons House of Horror XXXIV reveals that in one episode, Bart Simpson turns into an NFT and ends up in NFT Land. His father, Homer Simpson, will try to make the most of his son's value, and Marge Simpson must fight on the blockchain to save her son. In another story, Bart Simpson will be deceived by scammers who will scam him out of money under the guise of investing in blockchain.
 

The creators of The Simpsons believe that NFTs and blockchain are complex topics that a broad audience may not understand. They want to use their series to educate people about these technologies simply and understandably. They also believe that popularizing NFTs will help unlock the potential of Web3 and draw attention to this technology. The plot of the new series will focus on famous NFT collections such as Bored Ape Yacht Club, CryptoPunks, and Doodles.
---
---
Previously, The Simpsons featured other references to cryptocurrencies and blockchain technology. The Simpsons generally predicted the rise of cryptocurrency. Episode 17 of Season 8, which aired on March 2, 1997, featured a store called the Crypto Barn that was covered in "code" and "secret code" signs. The episode was released more than 10 years before the advent of cryptocurrencies.
Source and Copyright © Gracie Films, 20th Television
In another episode, you can watch a billboard depicting a Bitcoin bully — a school bully who asks to transfer money for lunch online, and, among other things, accepts transfers in Bitcoin.
Source and Copyright © Gracie Films, 20th Television
Bart Simpson Chart
Yes, you read that right! Bart Simpson, the iconic rebel from the animated series The Simpsons, has become a popular character in the cryptocurrency industry. This is not surprising, since The Simpsons is one of the most successful animated shows in the world, and Bart is a symbol of rebellion and freedom.

In the crypto world, the "Bart Simpson Chart" is a price pattern that resembles Bart's hairstyle. It consists of three phases: a sharp jump in price, a period of consolidation, and a sharp rollback back to the original level. This pattern was first discovered during Bitcoin's bearish rally in 2018 when the cryptocurrency's volume and liquidity were low.
Source and Copyright © X User, MrPixel.eth
In March 2023, this pattern appeared again, indicating a weakening interest in Bitcoin. On March 16, the price of Bitcoin rose from $39,120 to $41,700 in 30 minutes and then fell to $39,000 within an hour. Now, on the contrary, all attention is tied to the main cryptocurrency, because many believe that a bullish cycle has begun in the market.


---
---
 
A "Bart Simpson chart" can also occur in reverse, where the price of an asset drops sharply and then rises again. This pattern is called an inverted Bart pattern and is considered a bullish signal indicating a potential trend reversal. To create this pattern, large investors first place sell orders, which causes the price to drop sharply. They then buy the asset at a lower price, which causes the price to rise and complete the pattern.

The Simpsons often uses topical themes in its stories. So it's no surprise that they decided to turn to NFTs and blockchain, which are some of the hottest topics in pop culture today.

However, blockchain is not only joining The Simpsons today.
Squid Game, the Rise and Fall of the SQUID Cryptocurrency
At the end of October 2021, the SQUID cryptocurrency, inspired by the South Korean TV series "The Squid Game," increased in value by 25 times in one day. Its price rose from $2.2 to $3.6 in two days. According to CNBC, the project's capitalization then exceeded $174 million. It became popular due to the recognition of the series and then attracted a lot of attention from investors who were not familiar with the series. Here it turned out the other way around —  pop cultural influence created cryptocurrency.
Source and Copyright © Siren Pictures Inc., Netflix
Unfortunately, the SQUID Game cryptocurrency was initially created for hype and profit the founders committed a large-scale scam, leaving many investors with empty wallets. Despite this, the community persevered, found consolation, and restructured the project thanks to the intervention of Binance and, in particular, Changpeng Zhao, the exchange's CEO. Now the SQUID token has expanded on the Ethereum network as the community has decided to continue the mission of promoting the token into the bright future of decentralized finance.
The Memcoin Phenomenon
Memes are an integral part of pop culture, so when cryptocurrency first began to develop, it entered the realm of humor. This is how meme coins appeared. The most famous are Dogecoin (DOGE) and Shiba Inu (SHIB), which became widely known due to their popularity in social networks and Internet memes.
Memcoins have their characteristics that distinguish them from regular cryptocurrencies. They often have unusual names and symbolism that are associated with Internet memes. Some development teams incorporate memes into the technical design of their tokens, such as setting the maximum number of tokens at 420 billion or 69 billion based on the meme numbers 4:20 and 69.


---
---
Where Else Can You Note Cryptocurrencies' Trace?
Who seeks will always find. We didn't have to search too hard, because the Internet is full of examples of the use and mention of blockchain technologies and crypto in other pop cultural content. Here's just a small list:

1. In the popular HBO series Billions, the main character Axe is shown holding a cold crypto wallet, Ledger. "One million dollars directly in cryptocurrency, in cold storage." This can be seen in episode 7 of season 3 of the series.
Source and Copyright © Showtime Networks, Best Available!, TBTF Productions Inc.​​​​​​, Hulu
2. In the series "The Big Bang Theory," the characters remembered that in 2009 they accidentally mined bitcoins on Penny's laptop, which was taken by her ex-boyfriend. This showed the history of Bitcoin, from its appearance to the peak of popularity, as well as how easy it is to lose mined Bitcoins, and specifically in the ninth episode of season 11, the main characters are trying to return a lost hard drive with BTC.
Source and Copyright © Warner Bros. Television, Chuck Lorre Productions, Warner Bros. Television, Netflix, Max
3. Cryptocurrency is also mentioned in the animated film Spider-Man: Into the Spider-Verse. There is a news billboard that vividly shows the volatility of Bitcoin.
Source and Copyright © Columbia Pictures, Marvel Entertainment, Sony Pictures Animation, Pascal Pictures, Arad Productions, Lord/Miller Productions
5. Fine art also uses cryptocurrency and blockchain technologies; as an example, "Delacroix vs ECB" by French artist Pascal Boyard is an NFT image.
Source and Copyright © Pascal Boyart 
6. Cryptocurrency is also mentioned in various songs, emphasizing the perceived wealth or status associated with owning cryptocurrencies. Lil Vindex's "Bitcoin Ca$h", RiceGum's "Bitcoin Billionaire" and Lil Bubble's "HODL Gang" are prime examples of this. Eminem, a popular rapper, also mentioned Bitcoin in one of his album tracks called "Kamikaze". with the line: "Remember, everyone used to bite nickels, now everyone does bitcoins."
Source and Copyright © Eminem 
Why Do We Need Cryptocurrency in Pop Culture?
Cryptocurrency and blockchain have become an integral part of pop culture. They inspire artists, musicians, and filmmakers to create interesting and unusual content, including using cryptocurrencies as an alternative to traditional payments or ways of storing money. Cryptocurrency and blockchain also attract the attention of a wide audience, which helps spread information about them to untargeted audiences or those who do not trust these technologies.

Cryptocurrency in pop culture can serve several purposes:
Raise awareness. The appearance of cryptocurrencies in films, TV shows, music, and other forms of pop culture can help increase awareness of them among the general public.
Formation of public opinion. Pop culture can have a significant influence on public opinion. Positive representation of cryptocurrency in pop culture can help create a more positive image of the technology and increase its appeal.
Popularization. A cryptocurrency that appears in pop culture may become more popular among people who follow that culture. This could lead to an increase in demand for this cryptocurrency and its price increase.
As the world rapidly moves towards digitalization, cryptocurrencies are gaining popularity as a viable alternative to traditional financial systems. It is important to note that the presence of cryptocurrency in pop culture is not a temporary trend, but a long-term phenomenon that is here to stay.

Understanding of digital assets and their potential continues to grow, with more people using blockchain technology and exploring the benefits that cryptocurrencies provide over traditional financial systems.

Overall, blockchain in pop culture can serve as both a way to draw attention to technology and as a source of inspiration for the creation of new works of art. However, it is important to remember that investing in cryptocurrencies can be risky and requires careful analysis and understanding of the risks.
---
---