DAO Maker: A Guide to the Launchpad and How to Use It
05/22/2023
---
DAO Maker is a one-stop solution for investors and cryptocurrency developers. In this article, you will learn about the project and get step-by-step instructions on how to participate in the launchpad.
It's hard to identify the best crypto projects to invest in, especially in the early stages, but the DAO Maker Launchpad could be the solution you need to evaluate them. Here you will be able to see which crypto startups are active and with the most potential, while investing in DAO tokens to participate on the platform and earn rewards from staking.
There is a lot more you can do with DAO Maker too whether you're an investor or developer. For investors, aside from directly participating in a crypto project, you can also gain access to liquidity farms, staking, social mining, with many more investment options. Meanwhile, developers can receive incubation services for their projects and advice on operating it as well. This guide takes you through what DAO Maker has to offer and helps you decide whether or not you should invest.
Disclaimer. Not financial advice. Do your own research and don't risk funds you can't afford to lose.
What Is DAO Maker?
DAO Maker represents a complete suite of products aimed at enabling investors to participate in trending and upcoming crypto projects. The most popular of these products on the platform is the launchpad where potential investors can view upcoming projects and use DAO tokens to invest. The launchpad has already launched some very successful and notable projects such as Orion Protocol (ORN), Infinity Pad (IPAD), Seascape Network (CWS), My Neighbor Alice (ALICE), LaunchX (LNCHX) and many others.
At the same time, the DAO Maker ecosystem provides other services particularly incubation of crypto startups and listing on the launchpad for easier funding. Using DAO as the platform's native token, investors can also find more opportunities in a variety of ways. DAO tokens themselves can be staked on the platform as well as farms and vesting portals for other tokens. Altogether, DAO Maker should be a one-stop solution for both investors and developers to get the most out of the burgeoning blockchain space.
Source and Copyright © DAO Maker
So far, this goal appears to be attainable given that the platform has launched over 126 startups and received $51 in contributions to gain 310k verified users. It's clear crypto users trust DAO Maker which was founded by Christoph Zaknun and Giorgio Marciano. Zaknun was an early investor in ICOs, explaining their interest in crypto startups, while Marciano is an experienced IT engineer with over 13 years experience, making him a suitable CTO for the platform.
What Does DAO Maker Aim to Achieve?
Multiple blockchain projects are always being launched every other day, and while this is great for the blockchain sector, it makes it harder to whittle down your options. From crypto Twitter to Reddit and many other social platforms, they all seem to be backing one or another project, which makes it a lot more confusing. In fact, this is how many investors have lost money due to misinformation and FOMO without the necessary research, sometimes even falling for scams.
This is where DAO Maker comes in to help individual investors access new crypto projects efficiently and safely. DAO Maker will usually incubate an upcoming crypto project providing the developers with the tools, service, and advice they need to achieve their goals. Alternatively, the DAO Maker team will screen and vet any complete project submitted by its developers before it's listed on the launchpad.
The goal is to ensure all crypto projects placed on the launchpad are safe for investors. There have been a lot of scams and rug pulls in the crypto space unfortunately, but with proper vetting investors can avoid becoming victims. DAO Maker is taking on the task of guaranteeing investors' safety while also providing additional facilities to maximize your financial performance.
How Does DAO Maker Work?
DAO tokens can be considered the lifeblood of the DAO Maker ecosystem because they are used to perform all functions on the platform. For starters, you need DAO to take part in strong holder offerings (SHOs), SEED sales, and dynamic coin offerings (DYCOs) on the launchpad. Your DAO is then locked for a specified period starting from 30 days and you receive DAO power equivalent to each DAO token staked.
Then, when you find a project you would want to invest in, you allocate your DAO powers to it. This enters you into a lottery where you have higher chances of winning and investing in a project by allocating more DAO power. And if you allocate more DAO power, you can receive an allocation bonus and receive more tokens depending on the amount such as:
Tier 0: 250 - 1,999 DAO power - 1 max allocation, 0% allocation bonus
Tier 1: 2,000 - 3,999 DAO power - 2 max allocations, 5% allocation bonus
Tier 2: 4,000 - 9,999 DAO power - 6 max allocations, 10% allocation bonus
Tier 3: 10,000 - 24,999 DAO power - 16 max allocations, 15% allocation bonus
Tier 4: 25,000 - 49,999 DAO power - 33 max allocations, 20% allocation bonus
Tier 5: 50,000 - 99,999 DAO power - 33 max allocations, 25% allocation bonus
Tier 6: 100,000 - 200,000 DAO power - 33 max allocations, 30% allocation bonus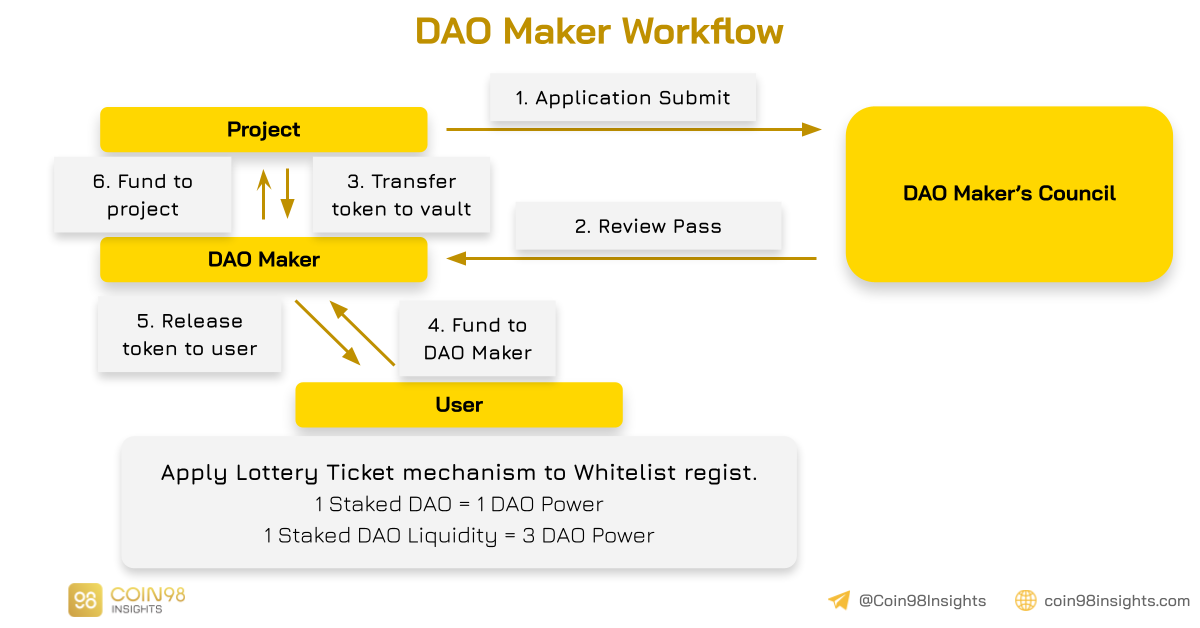 Source and Copyright © Coin98
Bidding for available projects is the main way to invest through DAO Maker, but there are other ways to make money on the platform. Staking DAO tokens is another way to invest because you can earn up to 15% APY the longer you keep the tokens locked. The average lock-in period on the platform is 738 days meaning that the platform is trusted, but you can stake DAO even for 30 days, although the yield won't be as high.
To become the preferred platform for retail investors, DAO Maker has also created some innovative products such as the venture bill/bond and social investing. The venture bill allows investors to fund startup projects and earn yields when the bond expires with very low risk. Meanwhile, social investing is meant to encourage users and holders to promote the project(s) on social platforms and receive rewards through airdrops.
Features of DAO Maker
What makes DAO Maker exciting is that it combines multiple features on the same platform so that users can find all they need in one place. Some of these features include:
DAO Launchpad
The launchpad is the place where retail investors get to see new blockchain projects and can choose to invest in them. It lists cutting-edge projects that have yet to be made public thus allowing you to become an early investor and maximize your returns. Several successful projects have already been launched through the launchpad because DAO Maker screens every project before it is listed to ensure that it is safe to invest in.
Source and Copyright © DAO Maker
Public SHO
A strong public holder offering (SHO) is a service that allows anyone with more than $500 worth of any crypto to invest in crypto startups. You simply connect your wallet to the DAO maker platform to prove your ownership of crypto and then you can bid on listed projects. When you win an allocation of tokens involved in a project, you then use your crypto to invest in it from your wallet and become part of the project.
Private SHO
This is strictly for those who have staked at least 250 DAO on the platform. This gives you special access to private offerings that have been vetted by the DAO maker team or incubated by the platform through development. Private SHOs guarantee a fixed return for those who participate, therefore making it a good investment for the long term and explains why so many people have locked DAO for an extended period.
Community Launchpad
Here, anyone with a crypto wallet can vote on which projects get listed on the launchpad. The higher your wallet balance, the stronger your vote is, and the more likely the project will become listed. Then, if the project is listed on the launchpad, you can receive free token bribes from the projects that wish to conduct a SHO airdropped right into your crypto wallet.
How to Participate in the Launchpad?
Participating in the launchpad is simple and takes just a few steps provided you have a non-custodial crypto wallet. DAO Maker launchpad accepts various wallets including:
Coinbase wallet
Block Wallet
Bit Keep
Coin98
Rabby
Among these, MetaMask is one of the most popular and easiest to use since it can be installed on multiple browsers including Chrome, Edge, Firefox, Opera, and Brave. Plus, MetaMask allows you to purchase crypto directly with fiat through your credit card, so it's easy to acquire crypto for investing in the launchpad.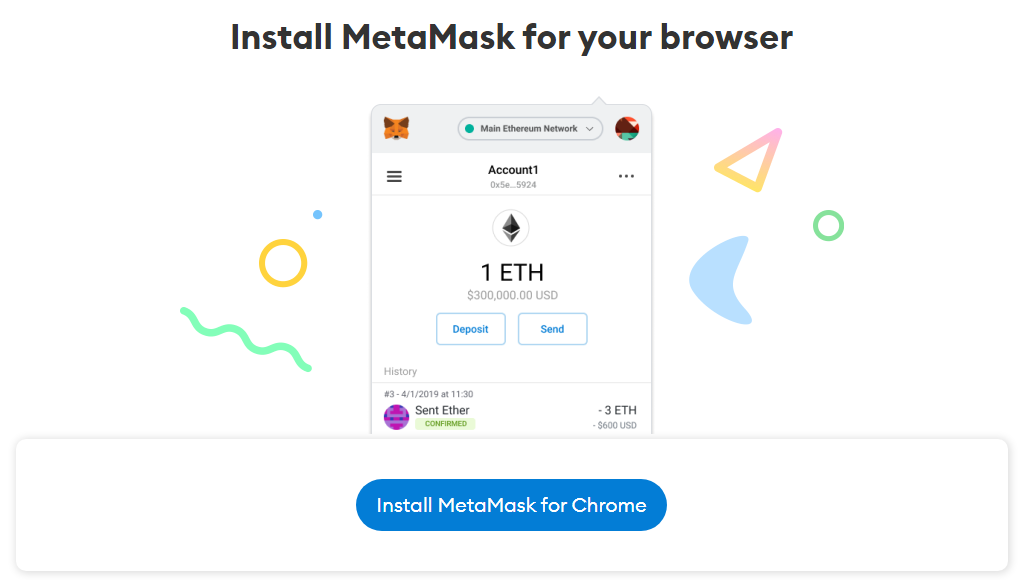 Source and Copyright © MetaMask
Step 1: Set up your MetaMask wallet
Assuming you don't already have a MetaMask wallet, you can quickly set one up through the web browser extension. But if you already have one, you can quickly connect it to DAO Maker and use MetaMask on your browser to fund your investments on Launchpad.
Step 2: Connect your wallet to DAO Maker
Once your MetaMask wallet is ready, visit the DAO Maker website and select Connect Wallet then follow the prompts.
Source and Copyright © DAO Maker (this and the following images)
Step 3: Create a DAO Maker account
You will also need to create an account on DAO Maker and then complete KYC verification by uploading images of your identification document(s). This could be your passport, national ID, or driver's license.
Step 4: Go to Launchpad
On your DAO Maker account, select Launchpad from the top of the homepage to view all live and previous projects. You can also filter the results to find the one(s) you're most interested to invest in and view details about it to help you decide.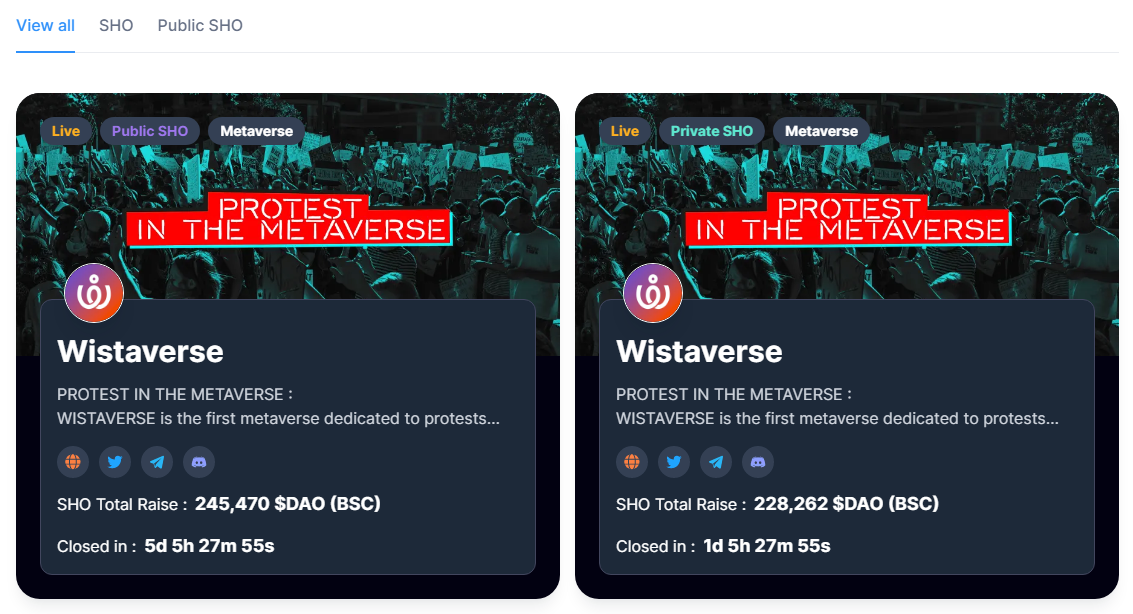 Step 5: Buy DAO
If you don't already have DAO but own another form of crypto, you can swap them for DAO at the current market value on the DAO Maker website. The tokens will then be deposited into your account instantly and can be used right away in public SHOs.
Step 6: Stake your DAO tokens
To participate in private SHOs, however, you will have to stake a minimum of 250 DAO for at least 30 days. This will give you equivalent DAO power to be used for investing in projects, and you can also receive a yield of up to 15% the longer you lock your DAO.
DAO Maker Roadmap
Since being launched, DAO Maker has reached multiple milestones along its roadmap including:
Launch of venture bonds (Q1 2021)
New crowdfunding platform launch (Q2 2021)
Lending pool launch (Q2 2021)
Margin for DYCOs through the lending pool (Q3 2021)
Launch of equity offering platform (Q2 2022)
High-investment index users' board acts as Limited Partner, approve funding applicants (Q3 2022)
The platform is also constantly implementing new features to provide everything that retail investors would need, so this is certainly not the last we've seen from DAO Maker.
DAO Tokenomics
DAO tokens are an ERC-20 token which means they can be stored in any Ethereum-compatible wallet. The total supply of DAO at the start was 312 million tokens which were then distributed as follows:
Sale: 78,000,000 (25%)
Team: 62,400,000 (20%)
DAO-Managed Foundation: 31,200,000 (10%)
Ecosystem Growth: 28,080,000 (9%)
Customer Incentives: 31,200,000 (10%)
Advisors & Future Team: 15,600,000 (5%)
Merger & Acquisition: 43,680,000 (14%)
Foundation: 21,840,000 (7%)
The initial sale of the tokens was held through Gate.io with the goal of raising $300,000. This goal was far exceeded as DAO Maker ended up raising more than $7.6 million.
Is DAO a Good Investment?
It's always important to do your own research before deciding whether or not a certain investment is good. This article has demonstrated what DAO Maker is about and how you can use it. You have seen that the platform has been the launchpad of many successful projects like Orion Protocol and My Neighbor Alice. And continues to incubate a lot more potentially high-growth ones such as you can see in the screenshot below.
Source and Copyright © CryptoRank
The DAO token itself could also be a good investment because it is ranked #144 on CoinMarketCap with a market cap of over $200 million, but it's not financial advice. To make DAO even more valuable, the tokens are burned on occasion and 13.2% of the total supply has already been burned to remain deflationary. You can buy DAO from several major exchanges such as Bithumb, Gate.io, KuCoin, and OKX or through DEXes such as Uniswap and PancakeSwap.
Frequently Asked Questions
What Makes DAO Maker Unique?
DAO Maker offers multiple services on the same platform such as public and private SHOs, venture bonds, staking, farming, community mining, and more. The native token, DAO, is also very valuable and provides some of the highest yields making it an investment on its own.
How Does DAO Maker Compare With Polkastarter?
Both of these platforms have been the launchpad to some very successful blockchain startups. However, DAO Maker has launched 56 IDOs while Polkastarter has released 72 so far, and the latter has had an average ATH ROI of about 4,032% and the former 3,692%.
How Are Infinity Pad and DAO Maker Related?
Infinity Pad (IPAD) was the first launchpad created using DAO Maker and one of the most successful launches. It is now one among many other whitelabel launchpads created on DAO Maker with many more being launched on the launchpad to provide an opportunity for developers to create.
About the author
Alm Maye has been a trader and analyst since 2013. He is an expert in stock markets, Forex and cryptocurrencies
Comments
Post your comment